Plea to report city sightings of the red fox
by Paul Cormacain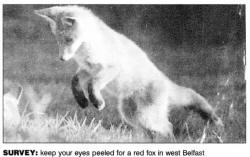 IF you live in north Africa and you see a fox, it will likely be a Fennec Fox. Not too many News Letter readers live in that part of the world, so it is likely only visitors there who see such a fox will read this paper. From Morocco eastwards to Egypt, the fox is the fennec.
Then again, having been to every country in north Africa at one time or another, I never did see a fennec. But keep your eyes open anyway.
If you go to Chile, you may well see a zorro fox, in Mexico you may see a kit fox, and in Russia you may well see a corsac fox. If you live in, or travel through, west Belfast, you have a good chance of seeing a red fox. And if you do, well, this is where the article starts.
Of the 23 species of fox, only one type lives in Ireland and Britain, which makes it easy for us to identify foxes - until we travel. So now a group of enthusiastic young folk are doing a survey of red foxes in west Belfast, and they are asking for your help. If this scheme is a success, I can see it spreading to other areas. It is original and innovative, and knowledgeable folk are watching it with curiosity and hope, and the thinking is that this will start to give us a full picture of the life of the fox, its numbers and distribution.
For anyone interested in wildlife, there seems to be an ongoing search for information. How do we know if there are fewer butterflies if we do not research them? How do we know if the magpie is a villain when it comes to small garden birds unless we do an accurate survey? How do we know that the magpie is not a villain? How can we persuade the corncrake to return to Rathlin unless we know more about it?
Fox Watch 2005, for that is what the survey is called, has many interested parties on the sidelines, like me. The National Lottery Heritage Fund is not only very interested, it is also very impressed, and is funding the project. The fact that the "doers" are all teenagers helps. When I heard a number of them talk publically at the inception of the scheme, I was also impressed, impressed with their knowledge, their communication skills, their determination, their enthusiasm. I think they will do a mighty fine job.
The education authorities are involved, and are looking forward with optimism to a successful survey. The Department of Environment Heritage Trust is very interested, and has nominated Dr Declan Looney to advise on methodology. Then there is Annie O'Kane of the Wildlife Trust who talked at the opening meeting, and who produced a large display with hand outs. She even brought her fox with her!
Local parents of the St Terersa's Youth Club are very interested, and the young parties involved are visiting all the schools to try to interest other young folk, so that they may report any sightings of foxes. They are asking readers of the News Letter to report sightings of foxes in west Belfast, and a free phone number has been provided. So if you do see a fox in west Belfast, please phone 0800 5874 470. Just leave a message saying where you saw the animal, the date and time, and whether you thought it looked like an adult or a young fox.
Already reports have come in, and foxes have been sighted by day and by night, in gardens on waste ground and on the roads. (We have sighted a fox in our garden by day!). These young folk are looking for more reports, and are now asking taxi drivers and businesses to report any sightings. The chances are that any fox which appears in west Belfast will be at least remarked upon. So again I appeal to News Letter readers to report any sightings of foxes right up to the end of April.
COMING EVENTS
Friday, March 11 to Sunday 13: March Birdwatch Ireland and the RSPB are holding their Annual Wildlife Conference in the Killyhevlin Hotel outside Enniskillen, information from 02890 69 0843.
Monday, March 14: National Trust concert at Castle Coole, 7.30pm, more from 02897 512351.
Wednesday, March 16: The future for Divis Mountain, at 7.30pm, at Belfast Castle, phone 02890 603466.
Sunday, March 20: Oxford Island to Castor Bay, a "leisurely dander", they say, contact 02838 322205.
Ulster Star
12/03/2005