Invitation to share your tales of Bridge Street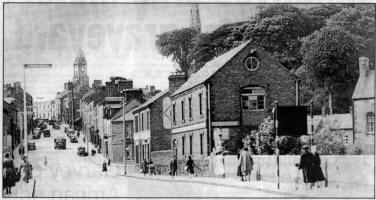 Bridge Street as from bridge, c 1950. US51-716SP
AS families across Lisburn get together to celebrate the festive season Christmas becomes a time to reminisce about days gone by. And those memories are vitally important to a new project which is currently underway in one of Lisburn's most historic areas - Bridge Street.
The project, 'Bridge Street Reminiscences', is looking for anyone who lived, worked or even just visited Bridge Street and Quay Street, once the heart of Lisburn, to share their memories with the rest of the city
| | |
| --- | --- |
| | |
| Brian and Graham Irvine, who lived at 14 Bridge Street. US51-715SP | Trevor Lunn, from the Lisburn Historic Quarter Partnership with Brian Turner, who is compiling the 'Bridge Street Reminiscences'. US51-107AO Picture By: Aidan O'Reilly |
As the physical regeneration of Bridge Street continues apace, Lisburn Historic Quarter Partnership is keen to capture the social history of the once vibrant heart of Lisburn. The Partnership recently appointed historian Brian Turner to piece together the history of the area.
Tales of life in Bridge Street have been flowing in but there are many more people who have valuable memories which will be put together to create an exhibition and a chronicle of the life and times of Bridge Street and Quay Street. "Very often people don't realise that their story is important," said Brian. "We are looking for people's personal memories and the contents of their family photo albums, which show life in Bridge Street. "For example, did you know that the bridge used to be in a different place? Did you know that Bridge Street used to bend into Quay Street
"These are memories that we are interested in. We are also interested in the history of Quay Street and the Lagan Navigation. "I am also anxious to find out about the Boxing Club, the people who kept it going and produced champions."
Do you remember when Bridge Street was a hive of activity? Did you live, work or shop there? Do you remember the many entrances to the Gas Works? Or the Boxing Club that produced so many champions?
If you have any memories of the area, any photographs or personal family stories, please get in touch with Brian at Lisburn City Centre Management on 9266 0625 or email: info@lisburn.com and he will be delighted to record your story for future generations to enjoy.
This photograph taken in 1928 shows of the workers in the Lisburn Gas Works. If you can identify anyone in the photograph please contact Julie-Ann Spence at the Ulster Star on 9267 9111. US51-714Sp
Ulster Star
23/12/2005