Heading
LISBURN COSTUME DESIGNER SETS UP NEW BUSINESS
Susan `dressed' some of the biggest names in Hollywood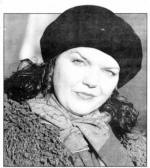 AFTER dressing some of the biggest names in Hollywood, Emmy nominated Costume Designer Susan Scott from Lisburn has returned home to pursue an exciting new career.
As well as working with some of the most respected directors in the film business such as Jim Sheridan, Terry George, and John Schlessinger, Susan also got to travel to fantastic locations to shoot in Thailand and LA.
Some of the stars she got to meet and dress included Brad Pitt, Daniel Day-Lewis, Helen Mirren, Alan Rickman, Meryl Streep, Joanna Lumley, Bill Paxton and Ben Kingsley.
Susan graduated from the University of Ulster with a BA (Hons) degree in Fashion and Textiles Design. During her time as an undergraduate she won the 'Attachment Award,' with Elizabeth Alexandra Ltd, designing children's wear and in 1990 she won second prize with her final degree show collection in the prestigious 'all Ireland Smirnoff Young Designer's Award'.
After graduating Susan set up her own women's wear label in Belfast designing unique handcrafted coats and shirts; selling throughout Europe, predominantly London and Dublin.
It was in 1995 that the lure of the film industry beckoned and it proved to be a very smart move to Dublin. She started out as a Trainee Costume Designer for the internationally re-known Costume Designer Joan Bergin (My Left Foot, Reign of Fire). Within three years a phenomenal record of work was achieved and Susan had earned the grade of Assistant Designer and then in 1998 the fullyfledged grade of Costume Designer.
The next phase of her career as a Costume Designer saw some incredible highlights. An Emmy Nomination for the TV mini-series David Copperfield 2001. Designing the costumes for such great directors as Richard Eyre (Rockaby), Patricia Rozema (Happy Days) and Walter Asmus (Footfalls) in the Beckett on Film series. Creating mad character costumes for the wonderful 'mock- u-mentary,' Paths to Freedom (RTE). Re-designing the costumes on Riverdance The Show for their huge New York spectacular in 2000. The Gaelic football series On Home Ground (RTE). As well as these projects Susan created the look for numerous other films, TV series, commercials and theatre productions.
Costume Design always conjures up images of period piece garments worn in great epics such as Howards Wav, The Aviator or End of the Affair. However a Costume Designer must be able to style modern trends, and be aware of each seasons fashions. Susan has always kept a keen interest in clothing Design and when she was asked to set up a new company designing Children's wear she jumped at the chance. Ruflo Kids was founded in Dublin in 2002, designing funky clothes and special occasion wear for 2-8 years old and is now in to its fifth season this spring.
She loves being back home and since her return in September, Susan has certainly not been idle. With a new design consultancy business in the pipeline, current projects include work with the children's hat and accessories company 'All Tucked Up' as part of Invest NI's Design Development Programme, plus a series of Costume illustrations for use. on courses training new wardrobe and costume recruits to the film industry.
Although having semi-retired from the film business she still likes to be involved and her most recent film is the zombie thriller Boy Eats Girl (Element Films), to be released later this year starring David Leon (Cutting It & Alexander) and Samantha Mumba, directed by Stephen Bradley.
Ulster Star
01/06/2005