Families unite to tackle cruel killer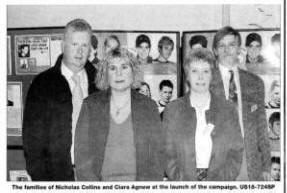 EVERY week eight young people across Britain die suddenly from undetected heart conditions. Now in an effort to highlight this devastating loss the charity CRY - Cardiac Risk in the Young - is launching postcards across all areas of the country with photographs of eight young people from that area who have died in these tragic circumstances.
The Northern Ireland postcard includes pictures of two teenagers from Lisburn who died from undetected heart conditions.
Nicholas Collins from Ballinderry was only 16 when he died in 1998 and Ciara Agnew from Derriaghy just 14 when she passed away in 2002.
The launch of the campaign on Sunday included speeches from Alison Cox, founder and Chief Executive of CRY and John Lundy, whose son Aaron died aged 19. The group wants everyone to lobby their MP to find ways to prevent cardiac deaths among the young.
This month thousands of the postcards will be distributed by CRY supporters to people across Northern Ireland, who will ask them to send them onto their local MP.
A new card is being launched every month, portraying victims from 12 different regions across the UK.
CRY hope the postcards will maintain the momentum set earlier this year when the Department of Health agreed to add a new chapter to the National Service Framework on Coronary Heart Disease, dedicated to sudden death among young people.
The eight young people on the Northern Ireland postcard had no apparent symptoms or history of bad health. But their deaths could have been prevented if cardiac screening was more accessible. Alison Cox said: "By showing just some of the faces behind the stories we read and hear about all too often we can help people begin to understand the heartbreak caused by this cruel killer and highlight the fact that it can happen to anyone, at anytime - usually without warning.
"Yet these eight faces - representing the eight lives lost a week in the UK - show just a snap-shot of the problem. We need to keep up the pressure and engage support from as many MPs as possible to make sure we can prevent other families from experiencing such tragic losses."
The postcards are available at the front office of the Ulster Star, 12a Bow Street, Lisburn which you are asked to send onto your local MP.
No warning, no clues before Ciara passed away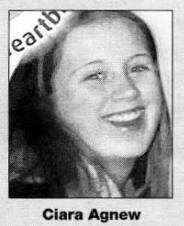 THE DERRIAGHY family of 14-year-old Ciara Agnew have no doubts their beloved daughter died of a heart ailment. Ciara died on February 8, 2002. Yet it was only at Christmas they received a death certificate and even then it only stated her death was ' unascertained'. There was no mention of heart defect, but the family firmly believe that is what caused her death.
Ciara, from Pond Park Road, died on the bus on her way home from school.
She had been returning from St Dominic's on non uniform day, laughing and joking with friends on an unusually crowded bus one Friday afternoon.
She never complained of being unwell, never took time off school.
She had mentioned the previous night she was a little tired, but it was certainly nothing to alarm her family that something was amiss.
Friends say Ciara bowed her head and collapsed in front of a bus full of people.
There was no warning
At first her friends thought she was joking, but when they realised something was seriously wrong they alerted the bus driver who stopped the bus and called the emergency services.
Her mother was contacted by a friend who told her Ciara collapsed unexpectedly.
By the time mum Deirdre made the short journey to Casement Park where the bus had stopped her daughter had passed away.
Later she was contacted by charity Sudden Death Syndrome who believed Ciara may have died from a heart defect.
No abnormalities had ever been spotted with Ciara who was never ill.
She had an eye operation a few years previously and was put on a heart monitor, yet even then no signs of heart defects were detected.
Deirdre said there have never been any heart defects in her family but fearing for the rest of children had insisted they all be screened, " I had to be sure" she said.
"My husband and I have also had tests to make sure there is no hidden gene but nothing has ever been revealed."
Deirdre said that since her case was highlighted in the press she has been approached by people who have told her stories of other young people who have died of heart defects.
Deirdre said she has also been in close contact with the mother of Cormac McAnallen the young GAA player who died last year.
One woman approached her at a local supermarket and said her son had been taking fainting fits. She brought him to hospital and he was sent home.
After reading Deirdre's story in the paper the mother insisted her child was taken into hospital again and put onto a monitor.
She was later told by doctors his heart had stopped a number of times for a matter of seconds and he had to have a pacemaker.
Deirdre believes that publicity is a good way of preventing other deaths among young people.
"My story helped to save one person's life," she said. "There may be many other people who have died in this way.
What I would like: to see is for schools, nurseries and buses to have defibrillators to help restart the heart.
"If one had been installed on the bus it might have saved Ciara. For the sake of £1000, which is the cost of a defibrillator, a life could be saved."
Fit and healthy, yet heart infection claimed teenager Nicholas' life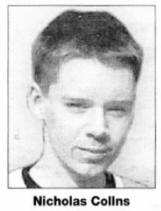 BALLINDERRY schoolboy Nicholas Collins was just 16 years of age when he suffered from a fatal viral infection in 1998.
At the time knowledge of causes of heart diseases among young people was relatively scant.
The keen fit basketball player spent seven weeks at the coronary care unit at the City Hospital, Belfast before passing away on November 24, 1998.
Later it was revealed a viral infection caused his heart muscles to inflame and he suffered from a fatal haemorrhage.
The first signs Nicholas was unwell were in October 1998 when he returned home from college one Friday complaining of a sore throat and flu.
He didn't feel well enough to go to basketball practice in Lisburn.
Although he was prescribed antibiotics the doctor later had him admitted to the Lagan Valley Hospital.
From there he was sent to the coronary care unit at the City Hospital where he was to spend the next seven weeks.
During his time there it was revealed that a viral infection had caused his heart muscles to inflame.
His temperature and heart rate would fluctuate. Numerous tests were carried out but as time went by the got weaker and weaker.
At times he seemed to be improving and his mother even told the owner of a computer shop where he had applied for a part-time job that he could start work before Christmas.
But Nicholas took a turn for the worse and suffered a fatal haemorrhage and despite having a blood transfusion passed away.
Brenda feels that her son may have died sooner, like other high profile more recent cases like Cormac McAnallen, if he had not been admitted to hospital when he was.
She knows doctors tried their best during his stay and that his hospital care was excellent.
She feels that potentially life threatening heart conditions among the young can sometimes not be taken seriously enough.
"A sports teacher once told me that many young sporty men are very competitive and never want to complain that they are unwell," she said.
"It is as though they find it hard to admit they do not feel well and just keep on going - not to let the side down."
Brenda agreed to Nicholas's picture being used on the CRY campaign postcards to encourage people to demand Action by raising awareness among the general public as well as within the medical profession.
"Families are often told that this is a very rare event and so they think that their case is unique but over the years a lot of young people have died of these conditions and at least some of these deaths might have been prevented," she said.

Ulster Star
06/05/2005