Life begins at 40 for Jackie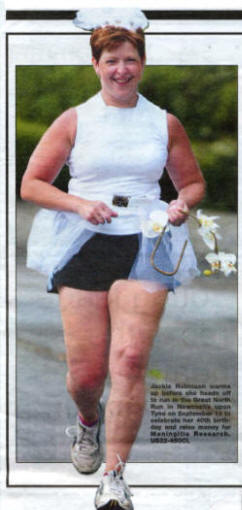 LIFE begins at 40 for Lisburn women Jackie Robinson, who is going to do a `Great Run' for Meningitis Research Foundation, when she takes part in the 25th annual BUPA Great North Run on September 18.
Jackie, who turns 40 next month, will be completing the race styled as `the runaway bride', complete with head-dress and skirt.
"I am going to dress up as the runaway bride' for my latest mad adventure," said Jackie.
"At just over 13 miles its not the longest run - but it will be special. By then I will be 40. Will life be just beginning or will I be over the hill?"
The half marathon is Britain's biggest running event and Jackie will be joining over 47,000 runners on the 13.1 miles long route from Newcastle to South Shields and Jackie has begun her training already.
"At the minute the training seems tough," said Jackie. "I did 11 miles in the rain last night but it was better than in the heat of the last few weeks, so I shouldn't complain."
Jackie has a very personal and poignant reason for taking part in the challenging event.
"I have chosen to run for Meningitis Research Foundation in memory of my godchild, Laura McGrath who died of the disease," she explained.
"I hope that the money I raise will help the charity prevent another family going through the heartache of losing a child."
Jackie is hoping that local people will support this worthy cause by digging deeply and sponsoring her 'Great North Run'.
"If you can help me in any way I would be grateful. By sponsoring me in person or on-line you can help me make a difference and prove that life is just beginning."
Meningitis Research Foundation funds vital scientific research into the prevention, detection and treatment of meningitis and septicaemia, raises awareness of the diseases, and offers support to those affected.
The money raised by Jackie will be a valuable contribution towards this crucial work.
If you would like to sponsor Jackie and help Meningitis
Research Foundation take a step closer to its vision of a world free from meningitis and septicaemia contact Alison Bertram at the Foundation on 01454 280415 or surf over to https://www.justgiving.com/jackieat40.
Ulster Star
20/08/2005