Friends' take a trip to Capitol Hill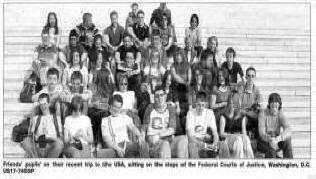 NOT even a 4am start could dampen the spirits of the 37 eager Friends pupils as they got ready to jet off to the USA for the trip of a lifetime.
The Friends students were lucky enough to travel to the States from March 17 - 25 visiting Washington DC, Philadelphia and New York.
The group's first taste of America saw them set oft for a tour of Capitol Hill, the centre of government for the USA.
The tour took them from the Senators' Office, through an underground tunnel beneath Constitution Avenue to Capitol Hill. There they saw the beautiful Rotunda, the Senate Vestibule and the old Supreme Court.
The group then went on a walking tour in the glorious weather. The tour took them all around the compact city, along Constitution Avenue to the Supreme Court where they even managed to see some demonstrators. Before m o v i n g a l o n g Independence Avenue to the Library of Congress, before their final stop just outside the White House.
Their last morning in DC was spent in Arlington cemetery and touring the various memorials of the city including the Vietnam, WW2 and Lincoln memorial.
The group then moved onto Philadelphia, visiting the last remaining meeting house of the Free Quakers. Afterwards they went to Liberty Hall where they learnt about the Declaration of Independence and the US Constitution, both of which were signed in Philadelphia. The Liberty Bell rather bemused them due to the high levels of security.
The students then travelled to The Big Apple, New York City. Their first day was spent walking around the sites of Midtown Manhattan, from the awe-inspiring Times Square, Central Park, Tiffany & Co, Trump Tower, St Patrick's Cathedral to the Rockefeller Centre. In the afternoon they explored the ultimate Mecca for shopaholics everywhere - Macys.
Brooklyn Friends School was the host for the evening and the group got to experience a completely different kind of school. Instead of lush grounds and sports pitches, the entire school was contained within one 9-floor building with a playground on the roof.
The pupils found it fascinating to see a school in such a distinctive setting and to learn about another Friends' School. The next day they explored Downtown Manhattan. Where the first stop was St Paul's Chapel, a former refuge for volunteers and firemen helping out at Ground Zero.
The final day came far too quickly for all on the trip and that night they enjoyed a visit to the hit Broadway show, "The Producers".
Woodbury Common was the last port of call and a final chance to spend any remaining dollars on Thursday en route to the airport.
The school and pupils would like to sat a huge thank you to the teachers: Mr Montgomery, Mr Thompson , M r Cunningham, Mrs Bradfield and Ms Spiers for their organisation. A fantastic time was had by all.
Ulster Star
01/06/2005