The final bell rings out as Ina retires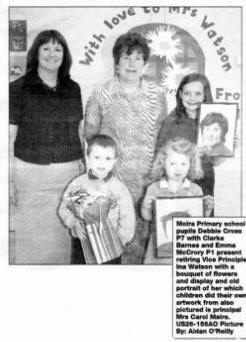 THE final bell has rung for Mrs Ina Watson, Moira Primary School Vice Principal, who retired this week, following a long and distinguished career.
Mrs Watson has taught at Moira Primary for 32 years, spending 28 of those years as vice principal.
Ina is the only member of staff to have worked in all three buildings that have housed the school, with the original building still standing at the corner of the Backwood Road and Main Street.
In her years at Moira Primary Mrs Watson established herself as a dedicated professional and was respected and admired by pupils, parents and colleagues.
Events to celebrate her contribution to education in Moira included an afternoon tea party for teaching and non-teaching colleagues past and present, colleagues from the education services and the community, representatives from the parents, members of the Board of Governors and close members of Mrs Watson's family.
The Principal, Mrs Carol Mairs, spoke about Mrs Watson's dedication and professionalism. She described her as an exceptional teacher and vice principal who accepted only the best for and from her pupils.
Teaching colleague Mr Jim Scott also paid tribute to Mrs Watson praising the support and friendship shown to staff in the school.
Canon Roderic West, Chairman of the Board of Governors, agreed with all the sentiments expressed and wished Mrs Watson a happy and fulfilling retirement.
During the afternoon pupils from the school paid tribute with music and poetry with all children from PI-P7 also producing artistic floral tributes to decorate the school assembly hall for the event. A special assembly was also held earlier this week for the whole school where Mrs Watson was presented with gifts from pupils, parents and colleagues.
And whilst sad to be leaving she was nevertheless looking forward to spending more time with her family and pursuing other activities.
Throughout her career Mrs Watson always promoted the importance of good friendships. She was instrumental in establishing the successful 'Buddy' system in which Primary 7 children assist with the younger children at breaktime by teaching them playground games.
To mark her retirement Mrs Watson presented the school with 'The Friendship Cup' to be awarded throughout the year to the pupil or class who has shown the qualities of friendship.
Ulster Star
01/07/2005