PETER JOINS ULSTER YOUTH ORCHESTRA ANNUAL CONCERTS
Local musician tunes up for summer concerts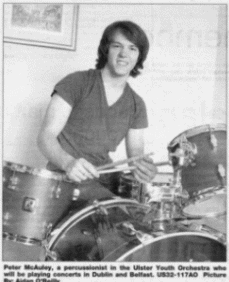 LOCAL student Peter McCauley is among one hundred of Northern Ireland's finest young musicians who are tuning up for the Ulster Youth Orchestra's eagerly awaited annual summer concerts.
This year's concerts will take place at The Helix, Dublin DCU next Friday (August 19) and at Royal Belfast Academical Institution the following day.
The concerts will be the culmination of a ten-day residential course of workshops and rehearsals currently taking place at Greenmount Agricultural and Horticultural College, Antrim.
Peter, a former pupil of Wallace High School, plays percussion and is currently waiting on A-Level results.
He was selected for the course following a successful audition at the Belfast School of Music last year.
Commenting on the fact that the UYO annual summer course offers Northern Irish students the opportunity to work with top ranking tutors in addition to performing with a leading international conductor, Peter added: "I'm really excited about meeting and working with other young musicians from all over Northern Ireland and to improving my musical knowledge and skills.
"Performing in front of audiences in Dublin and Belfast, though, will be the high point of the week for me and I'm really looking forward to playing at both concerts."
The summer concerts will be the start of a year out for Peter who is hoping to concentrate on his music for the next year.
As part of a well-known local band, Ego, Peter has a preference for playing rock music but he is still eagerly looking forward to his foray into the world of classical music.
The Ulster Youth Orchestra's guest conductor this year is Vasily Petrenko from Russia who has recently been appointed chief conductor of the Royal Liverpool Philharmonic Orchestra.
He is widely acknowledged as being one of the finest conductors of his generation and is tipped for widespread international success.
Peter and his fellow musicians will be performing a stunning programme that includes Stravinsky's 'Firebird Suite' (1919), Elgar's Symphony No.1 and an exciting new piece by Lurgan composer, Conor Mitchell, 'Nails in His Eyes', based on a poem by world-famous film director Tim Burton.
Tickets for the Belfast concert are available from the Grand Opera House, Belfast while tickets for the Dublin concert can be purchased direct from The Helix Centre Box Office at Dublin City University.
Ulster Star
12/08/2005