Elaine and Rosie trek Iceland for Ulster cancer foundation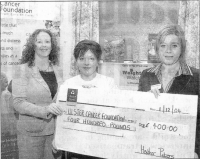 Heather Peters, Weightwatchers and Moira businesswoman, Elaine Good, present a cheque to Leonne Wheatly Ulster Cancer Foundation. US49-563JC
LOCAL businesswoman, Elaine Good, together with her friend Rosie McBride, has decided to go the extra mile for charity and take part in the adventure of a lifetime by completing the Icelandic Challenge for the Ulster Cancer Foundation.
Elaine, who runs the Gil-Good Lodge on the Moira Road, decided to take up the challenge when she was encouraged by her Weightwatchers leader, Heather Peters to start walking.
"I joined Weightwatchers and lost about two stone. I needed to start some exercise to help the weight come off and Heather suggested I start walking," explained Elaine.
"I just walked around the roads and got to like it and the weight kept coming off. I was reading the Ulster Star one Friday evening and saw an article asking for people to join the Icelandic Challenge.
"I thought 'I could do that' and raise money for a worthwhile charity. I put my name down and asked my friend Rosie to do it with me because I didn't want to do it on my own."
The two friends have to raise £2,250 each in order to take part in the adventure but both are hoping to raise a lot more and have already begun their fundraising and training schedule.
Rosie recently held a car boot sale at Cairnshill Methodist Church and raised a fantastic £715 towards her total. Elaine has also made great inroads into her fundraising total, receiving sponsorship from a host of local businesses, as well as her local Weightwatchers group, who recently presented her with a cheque for £400.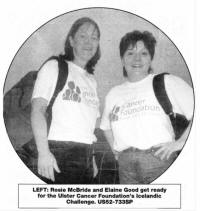 Expressing her thanks to local businesses, Elaine said: "I thank everyone who has sponsored me, including Robert Wilson Estate Agents, Clarehill Plastics, Mercer Agencies, Alan Stirling from the Village Service Station, Angela Mathers Nail and Beauty, Moira Post Office, Escapades Hairdressers, PRM, Willow, Grahams, Chestnut Lodge and everyone else who has been so supportive." Rosie has also thanked everyone who has sponsored her and provided help and support, including the Ulster Cancer Foundation, which has provided great support to both Rosie and Elaine.
As part of the training for the event itself, Elaine has been walking the roads of Moira and has even got her children involved in her schedule.
"I am walking around six miles a day. I would also climb Slieve Croob with my two children and I like to get the whole family involved."
On the Icelandic Challenge, which will take place from June 25 until July 2, 2005, Elaine and Rosie will be walking for up. to nine hours a day. After taking a day to settle into their new surroundings, the group will have a warm-up trek from Landmannahellir to Landmannalaugar, passing lakes and the magnificent Domadalslava lava fields. The trek will continue to the country's capital, Reykjavik, taking in the spectacular mountainous scenery.
All of the money raised from the Icelandic Challenge will be put to good use by the local charity. The Ulster Cancer Foundation (UCF) was established in 1970 and is Northern Ireland's leading local cancer charity and exists to provide immediate and sustained care and information for patients with cancer and their families.
UCF also work to reduce the incidence of the disease through cancer prevention projects and the promotion of early diagnosis.
As a local charity, which receives virtually no statutory funding, UCF relies on voluntary contributions from the community and the generosity of local people, just like Elaine and Rosie.
Elaine, who is actively involved in the local community, explains her reasons for choosing to support the Ulster Cancer Foundation. "All of the money raised stays in Northern Ireland. This is the perfect way of giving something back and I have known so many people who have had cancer."
If anyone would like to sponsor Elaine and Rosie, please contact Elaine at the Gil-Good Lodge on 92651534.
Heather Peters, Weightwatchers and Moira businesswoman, Elaine Good, present a cheque to Leonne Wheatly Ulster Cancer Foundation. US49-563JC
Ulster Star
01/06/2005