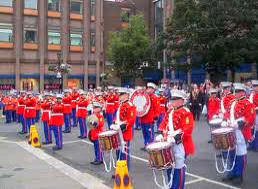 BLACKSKULL Corps of Fife & Drums Flute Band from Glasgow, are this year celebrating 25 years 'on the road' by holding three anniversary concerts, two of which are being held in Scotland and one here in Northern Ireland.
The Island Centre, Lisburn, is the local venue chosen by the band and the Concert will be on Saturday, September 23, at 7.30 p.m.
Also to be featured in all the shows, along with the band, will be special guests, The Ulster Scots Folk Orchestra. The concert will feature traditional loyal music and traditional Ulster-Scot music. Blackskull Flute Band have been travelling over to Northern Ireland over the past 10 years (sometimes three times a year), to take part in loyal parades in the province. Annual 12th July celebrations, 13th July Black demonstrations in Scarva and Apprentice Boys parades in Londonderry, in which they have headed the main parade and General Committee around the walls. They have also attended many band parades here, Rathfriland, Armagh and Ballymena, to name but a few. They have gained a reputation as a top-class marching melody band, their deportment and style on parade being enjoyed by all and especially on the 13th July when they combine with Ballinran and also in August, with William King, to form one 'big band' on the day. The band are bringing with them different drums to assist in their stage presentation and along with the Ulster Scots Folk Orchestra, promise a show not to be missed.
Tickets are priced at £10.00 and can be purchased by telephoning the Lisburn Island Centre on (028) 9250 9250.