by AUDREY GREGG,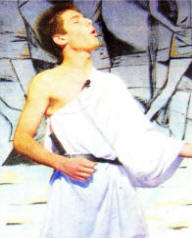 Saintfield High School student Gareth Houston stars in the school's Celebration of Talent. US15-768SP
SAINTFIELD High School hosted 'A Celebration of Talent' last week.
It was a hugely successful programme of dance, drama, music and song – a night which the young cast will remember for a very long time.
Their many and varied talents from the beautiful voices of the choir supported by the band, which included some first year students, the lively dance music rocked the audience into gear, through to poetry by the Junior Poetry Group.
A short tour of the world of Classic Literature rolled back the years with interpretations of some memorable scenes and characters including 'The Three Witches' from Macbeth with Ember Coates, Judith McDowell and Sarah Moore hilariously casting their spells.
From witchcraft to love and romance with Romeo and Juliet.
Well, I have never witnessed the balcony scene quite like this one! Romeo (Matthew Patterson) was declaring his love for Juliet (Sian Galbraith) who was standing on the balcony.
Enter from the wings the wonderful Chloe Armstrong, star of other school productions, as the cleaning lady complete with mop bucket on wheels and strides across the stage. Downing tools she listens intently to the "soppy, romantic trivia" throwing in her tuppence worth here and there which had the audience roaring with laughter.
An excerpt from "Of Mice and Men" set on a ranch in California with the very talented soloist Danielle Jackson as the only female amongst the menfolk complete with the American drawl was excellent.
Moving on from the outback to an interview with Quackers the Duck from 'Animal Farm' by George Orwell to Bottom's speech in 'A Midsummer Night's Dream' was a wonderful and very enjoyable journey.
| | |
| --- | --- |
| | |
| Matthew Patterson (Romeo), Sian Galbraith (Juliet) and Chloe Armstrong as the cleaning lady take part in Saintfield High School's Celebration of Talent. US15-770SP | Saintfield High School's Celebration of Talent starred Ember Coates, Judith McDowell and Sarah Mnnre as 'The Three Witches' trnm Macheth. US15-769SP |
A lively dance routine from Chicago – the choreography was excellent – was followed by 'Grease' with the cool dudes and chicks of Rydell High with Emma Morrow as Sandie together with Danny, Rizzo, the Pink Ladies and the T-Birds.
Songs from "Oliver" featuring the whole cast brought the production to a close.
Principal Ms. Vivien Watt said she was very proud of everyone involved.