Get voting and help send super doodler Chloe to California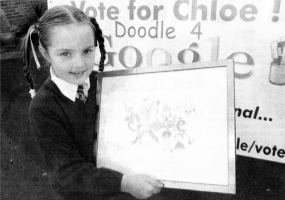 Chloe McAdam holding her Google doodle
GET voting for super doodler Chloe McAdam who has scribbled her way to become Northern Ireland's regional finalist in a national competition `Doodle for Google - My Britain'
The bubbly seven-year-old, a primary three pupil at St Aloyius in Lisburn, is in with a chance of scooping the top prize - a trip to Google HQ, the Googleplex, California where she could help Dennis Hwamg, Google's Master Doodler and top competition judge design a doodle for Google's Homepage.
The task at hand for the UK's 10 million school children age 4-18 was to design a Google Doodle explaining what it means to be British. The winning doodle will be displayed on www.google.co.uk for a day and will be seen by around 18 million people.
Chloe is now one of 30 finalists short-listed by an expert panel of judges whose designs are already up for the public vote.
Her teacher, Mrs Clare McAllister who entered the "bubbly, larger than life" little girl, is urging local people to get on line and register their support by logging on to www.google.co.uk/doodle4google/vote.
Mrs McAllister said: "We have been doing all we can at St Aloyius to back Chloe and have been writing out to other schools and parents to get voting.
"Now we are asking everyone to support Chloe's entry. She is a creative child, a lovely little chatter-box who is not only a great artist but also a Champion Irish Dancer. It is our greatest wish that Chloe, who has been producing award-winning art since Primary One and who attends the Artbreak after schools club, gets every chance she deserves."
Chloe's proud mum, Angela McAdam, dad, Neil and her brother Jamie (17) will also be behind her all the way when she travels to the next round of the competition at London's Science Museum on November 6.
Angela said: "We are so proud of her having come so far and we will be keeping our fingers crossed for her as the competition progresses.
"She has great imagination and has always taken great pride in her artwork. It's great for her to get this opportunity and for Northern Ireland to be represented in such a big high profile competition."