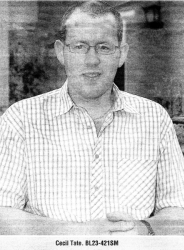 A DROMORE man has spoken out in an attempt to raise awareness of a medical condition that brought him to the brink of depression.
Cecil Tate (34), of Barban Heights, was diagnosed 18 months ago with Coeliac (pronounced seeli-ak) Disease.
It is an hereditary disorder, caused by sensitivity to gluten, that makes the digestive system unable to deal with fat.
And despite the fact that one in every 100 people may unknowingly suffer from the condition, Cecil says there is little understanding of the disease among food retailers and the local catering industry, nor much by way of group support for sufferers in Northern Ireland.
"It's important to make people aware of it," said Cecil. "I went to a restaurant and asked for a gluten-free meal and I got turkey, ham and potatoes, but what was inside? Stuffing made with breadcrumbs."
According to Cecil, Coeliac Disease immediately rules out flour, wheat, rye and barley for sufferers, and as well as avoiding most breads, they must be constantly alert to the possible presence of wheat flour and modified maize starch in their foods.
Many breakfast cereals, biscuits and even soups (cream of tomato, for instance, contains wheat flour) are also off the menu.
While the symptoms of Coeliac Disease can include everything from bloating and stomach cramps to diarrhoea and anaemia - in Cecil's case the only readily identifiable symptom was a very painful rash - the condition can carry a high risk of both kidney failure and bowel cancer.
Said Cecil, "I originally went to see about really bad joint pains I had been experiencing for about three years and one of the doctors noticed a rash on my elbows and picked it up from there.
"It turns out the joint pains may be related because of calcium deficiency linked to the disease."
Also, though the condition is not particularly linked to diabetes, as a diabetic Cecil's chances of developing the disease were heightened, he said. Coeliac Disease is treated not with medication but entirely by dietary means, something Cecil has found difficult to adjust to.
"It's unbelievable," he said. "It actually led me to depression. You have to check the ingredients on everything. The main thing is, if in doubt leave it out."
Cecil has been forced to adopt a very basic diet, consisting mostly of fresh fruit and vegetables, and he has all but stopped eating take-away or dining in restaurants altogether.
Even in chip shops where the chips have been fried in a gluten free oil, there remains a hazard if the same oil was used to fry battered foods, such as fish, and in the home, Cecil must take care when using the butter in case it has been used on bread and contaminated with crumbs.
For sufferers who enjoy a drink, beer and liqueurs are out of the question, though they can have spirits or cider.
Said Cecil, "There's most definitely a need for more education on the subject - people don't understand it; more awareness for shopkeepers and caterers and more so that other people know what signs to look out for."