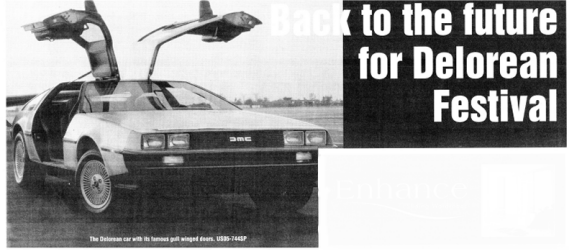 THE Delorean Motor Festival is to take place in Lisburn next month as planned.
This emerged at the March meeting of the council's Economic Development Committee after Alderman Jim Dillon asked about the matter.
He was told the Festival would proceed and would be supported by a series of other events in Lisburn.
The City Council first agreed last January that a 'Delorean Motor Festival' should be held in the city to mark the 25th anniversary of the production of the famous gull winged cars at Dunmurry.
Representatives of the Delorean Owners' Association attended that month's Economic Development Committee to outline plans for the event.
Corrine Weatherup, Robert Lamrock and Peter Lavery explained the purpose of the event was to mark the 25th anniversary of the car's production.
The deputation gave councillors a description of the background to the car and proposals for the festival.
Ms. Weatherup explained there would be benefits and opportunities for the city if it went ahead.
A number of councillors also spoke in support of the festival taking place in Lisburn.
The Delorean factory was located at Derriaghy on the site now occupied by Montupet but collapsed after just a short time.
The man behind the car, US entrepreneur John Delorean, died last year.
Ulster Star
07/04/2006