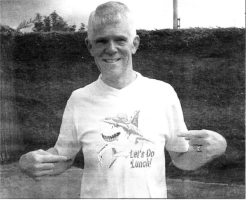 Eric Irwin
IT'S many people's worst nightmare, but brave Lisburn man Eric Irwin will be facing fear head on when he scuba dives in shark infested water this week to raise funds to help the Muscular Dystrophy Campaign.
Eric will be heading to Deep Sea World aquarium in Scotland to dive with 10-foot sand tiger sharks as well as 2000 other fish, rays and conger eels.
Eric, who admits to being nervous about the experience, said: "This is a unique opportunity to be part of an Underwater Safari giving me the chance to be `eyeball to eyeball' with one of nature's most feared creatures of the deep - it's a prospect 1 just couldn't turn down".
Fellow Lisburn man and Regional Fundraising Manager for the charity Glenn Oakes reassured Eric that he would return to 'tell the tale'.
"The aquarium is based upon the cooler waters around the UK, allowing sharks to adapt to a slow and gentle pace of life, ideal for close and safe encounters by divers. Eric will be in the hands of Professional Association of Diving Instructors approved staff. "
500 people in Northern Ireland are directly affected by muscle disease, including approximately 26 children and adults in the
Lisburn borough. There are about 60 different types of the condition, all of which result in the progressive breakdown of muscles.
The Muscular Dystrophy Campaign funds internationally acclaimed medical research to improve treatments and find cures. The charity also runs a Family Care Service, providing advice and support for those affected by the condition.

If you would like further information on how to dive with sharks (no experience required), or if you would like to sponsor Eric please contact: Muscular Dystrophy Campaign - 028 9075 1497 or e-mail glenno@muscular-dystrophy.org.