'FAB which now helps around 58 families throughout the UK, was set up in 1989.'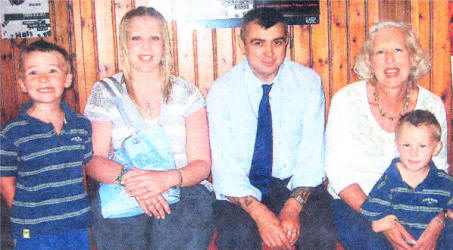 Christine and Suzie Westmoreland thank Tom Taylor, Duty Manager of Hagues Bar for holding fundraising events for FAB UK. Included are Brian and Adam Kerr. US29-714SP
A WOMAN who has suffered the pain of losing not just one but two children to a rare blood disease visited Lisburn recently to thank local people who have helped raise money for the support organisation she and her husband founded to help others in the same position.
Christine Westmoreland from Nottingham who set up FAB UK along with her husband David was the guest of Gaye Kerr whose little boy Brian suffers from the condition Fanconi's Anaemia.
She and her daughter Suzie came to Northern Ireland after Gaye phoned her to discuss the results of recent tests carried out on Brian's blood.
| | |
| --- | --- |
| | Christine and Suzie Westmoreland thank Ken Kirkpatrick of KC Carpets for his continuing fundraising support for FAB UK. US29-713SP |
| | Brian and Adam Kerr with Christine and Suzie Westmoreland, their grandparents Arthur and Helen Warwick and Kathryn Warwick their aunt. US29-716SP |
The visit had an added poignancy as Gaye's little girl Helen, Brian's twin, passed away last year within days of Christine's daughter Linzi who succumbed to Fanconi's Anaemia while in her early 20s's.
Ironically, Lindsey and Helen had met as part of FAB UK's support for the Kerrs in the aftermath of Brian's diagnosis.
The meeting took place at a hotel in Bristol in 2004 during one of Brian's trips to a hospital in the city and Christine could clearly remember Helen as a "lovely lively little girl.
"We did have photographs taken at the time but it's very hard to look at them now both Linzi and Helen have gone," she said. Christine told the Star she first came upon Fanconi's Anaemia when her little boy Craig Ashley was diagnosed as suffering from it in the early 1980's.
Tragically, Ashley passed away in 1985, two years after Linzi was born.
FAB UK, which now helps around 58 families throughout the UK, was set up in 1989 after Christine and David discovered Linzi also had the disease.
Christine said her daughter 'coped wonderfully' with the condition.
"She underwent a lot of treatment then in 1993 she went on to alternative therapies which did give her a quality of life," added Christine.
"If there is an alternative I would advise people to go for it. I feel it is much better than toxins going into the body."
Linzi's illness made it difficult for her to attend school.
However, she was taught by a home tutor and eventually set up her own business crafting cards.
"She did find some local outlets for her cards and she was never happier. She was very creative," added Christine.
As yet there is no cure for Fanconi's Anaemia and the progress of the disease is hard to predict.
It eventually leads to the depletion of blood cells and Christine described it as an 'individual condition' which manifested itself in 'different degrees'.
However, she also referred to sufferers aged between 20 and 30 as 'long lifers' which in itself shows how serious the condition is.