A LISBURN man has had an emotional reunion with a friend he hadn't seen for 60 years.
Cliff Shields and Ted Chambers were reunited last week, spending the day reminiscing and sharing some almost forgotten memories of their days as teenagers in Northern Ireland six decades ago.
Cliff, who lives in Ballinderry, made contact with Ted, who now lives in Toronto after placing a newspaper ad, and his old friend was so delighted to hear from him he decided to make the journey back to Northern Ireland to visit his old stomping ground.
The friends, who played on the Fisherwick Young Mens Association football team, shared many happy days growing up in Northern Ireland and some even happier times on holiday in Scotland with 'the old gang'.
They last bade farewell as Cliff boarded a boat to work in Germany when he was seventeen and Ted left Northern Ireland to live in Canada.
As the years rolled by neither thought they would see each other again. So it was with great delight that they sat down to look over old photographs and share some amusing anecdotes of their escapades as young men.
"We used to go camping in Largs in Scotland," recalls Ted. "We rented tents and Cliff and I were in charge of the spending money. I always had to put up the tents while everyone else sat and watched."
According to Ted, Cliff was the heartthrob of the gang, accusing him of "pinching several of my girlfriends."
But despite this the pair remained firm friends and, together with 'Turkington' they were the 'Three Musketeers', the inner circle of the gang.
Playing football every week Ted, who lived in Bangor, inevitably missed the last train back home and stayed at Cliff's Lisburn home, where he delighted in Cliff's mother's fantastic cooking. "His mother always had breakfast ready on the porch every Sunday," remembers Ted. "She never failed. She was some cook. I will never forget those Sunday breakfasts."
And Cliff recalls one particular visit from Ted that came as quite a surprise to his father. "Ted kept missing the last train at midnight so I took him home to our house and the two of us slept in the sitting room while his sister Joan slept in my bed.
"My father always brought me a fry on a Sunday morning and, not knowing Ted had stayed over, went upstairs with the fry only to find a strange woman, Ted's sister, in my bed. I think he believed my explanation!"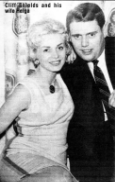 The two went their separate ways at the age of 17, Cliff moving to Germany where he worked for an international company attending trade fairs throughout Europe. And it was in Germany that Cliff met his wife Helga, who sadly passed away three years ago. The pair returned to Northern Ireland in 1969, settling again in Lisburn. He was the Managing Director of the Spinning Mill, which had twenty outlets in Northern Ireland, and later went on to be the Personnel Director of Texas Homecare. He will also be remembered by many in the business community as the Chairman of the Lisburn Traders' Association, Chairman of the Belfast Large Traders' Association and the Vice President of the Belfast Chamber of Trade.
Meanwhile, Ted was building his life in Canada. After working on a farm in Ontario for two years on the government's Assisted Passage scheme, he moved to Toronto and started work in GE when he was 19.
It was when Cliff was diagnosed with a rare blood disorder, Polycythaemia Vera, that he decided to get in touch with his old friend again before it was too late.
It is thanks to two of Cliff's friends, Ruth and Victor Coleman, and his carers, Vera McCausland, Deirdre Hamilton, Jacqueline McCausland and Elizabeth Elwood, that he was able to welcome Ted into his home.
"I am on a home to hospital scheme," explained Cliff. "I have four carers, who work for Rogers Community Care, who are excellent. The NHS District Nursing Team, led by Sister Phyllis, staff nurse Deirdre and staff nurse Fiona, have also been wonderful. I wouldn't be here without them and my two friends Ruth and Victor McCausland, who have been fantastic."
He went on to explain how he managed to get in contact with Ted after so long.
I placed an ad in the Bangor Spectator, because that was where Ted lived.
"His sister-in-law saw the-ad and contacted me. I got in touch with Ted and we have kept in contact ever since.
"It is really nice and a lot of fun to get together and share our memories. I never thought I would see Teddy again."