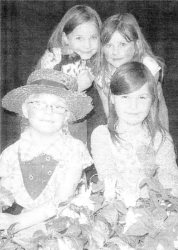 MARKING the culmination of a great amount of hard work, determination and effort as well as a huge helping of fun, the students from the Lisburn Helen O'Grady Drama Academy proudly presented their end of year productions in the Island Arts Centre Studio Theatre.
The Lower Primary class were first to perform for a huge audience of parents and friends. The children presented an enchanted play entitled 'The chicken-hearted fox'.
The children's dynamic and energetic performances won them wave after wave of well-deserved applause from their appreciative audience.
Upper Primary children, aged 8 - 11 years, then provided even more entertainment with the aptly named 'Jet-Lag Tour'. The class was excellent, clearly demonstrating their prowess with vocal skills and expressive acting.
The fantastically talented Youth Theatre students presented an outstanding play using New York accents and gangster-ish attitudes to effectively characterise some notorious gangland figure like Luke the Duke and Big Benny, who have been engaged in vicious rivalry for some time.
The Helen O'Grady Drama Academy is the Province's largest drama school with 1350 students. Twenty specialist drama teachers undergo an extensive training in the Helen O'Grady teaching methods to ensure that each student is encouraged in a warm, positive learning environment, where mutual respect is a high priority.
| | |
| --- | --- |
| | |
| It's a busy night in Duchess' speakeasy. US26-715SP | Jet Lag Tours and their terrified tour guides. US26-716SP |
The award-winning programme aims to develop, enthusiasm, confidence, self-esteem, communication skills and social skills, through a highly developed and stimulating drama curriculum.
Lisa Semple, principal of the Academy, which operates in 29 venues throughout the province, said: "It is wonderful to see the breadth of talent across the different age groups. All our students have shown development in their confidence in verbal communication and their self-esteem which is what out unique programme offers. We are developing valuable life-skills."
"Most important, though, is to see children having fun and enjoying the experience of being on a stage in front of a large audience. Many parents have commented on how their children are now more able to speak out in public and in improvement in the quality of speech which has a direct effect on their school work." The Helen O'Grady Drama Academy is currently enrolling for ages 5 - 17 in September. In order to give your children the invaluable opportunities afforded by this tremendous educational programme and for details of your local studio please telephone, principal Lisa Semple on 91464337 or e-mail ni@helenogrady.co.uk.