"The poverty and quality of life really opened my eyes."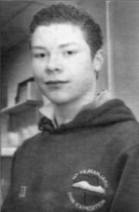 Jonathan Ingram who took part in the Kilimanjaro 2006 expedition. US19-103A0 Picture By: Aidan O'Reilly
A LISBURN teenager has returned from a Team Challenge expedition to Mount Kilimanjaro.
In May the Star reported how Jonathan Ingram, 17, one of 26 pupils from the Royal Belfast Academical Institute, was heading to Africa for a month.
Although Jonathan didn't make it to the mountain summit he said he had a fantastic experience.
"I am gutted that I didn't reach the summit but I developed altitude sickness and had to stop when I had only five hours to go before reaching the end," said Jonathan.
The adventurous student who worked on projects, which will benefit the people of Tanzania, said that the trip was "character building."
He added: "I really enjoyed it. We interacted with both young and old and they seemed very pleased to see us. We were made to feel so welcome." During the project phase of the expedition Jonathan and his team-mates painted classrooms in a secondary school and helped repair the tin corrugated roofs as well as teaching the children.
"We walked about through different villages and lots of children would greet us as we arrived," explained Jonathan. "The poverty and quality of life really opened my eyes.
"It was a bit of a culture shock to be honest.
"Being able to help in some small way was very rewarding and I would encourage others to do the same." Jonathan received a number of donations before he left for Tanzania. Showing his gratitude he said: "I would like to thank all the Star readers who sent me money for the expedition.
"I would especially like to thank one gentleman in particular - who would prefer to remain anonymous - for his extremely generous donation. It was very kind."