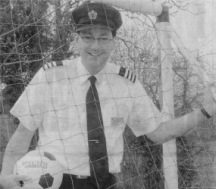 KIND-HEARTED Annahilt man Jonathan Hemphill will be flying to the aid of children in Kenya next month when he brings some World Cup fever to Lisburn through his Kick for Kenya campaign to raise funds for Top-Mark Academy, a school/orphanage in one of the biggest slums in Nairobi. Jonathan, a pilot for British Airways, first discovered the Top-Mark Academy through his work and he was so shocked at the conditions the children live in in the harsh Mathare area of Nairobi that he has pledged to do all he can to make, life better for them.
Jonathan said: "I found out about the academy through a friend who brought me to see it. He took me to the school and having seen the conditions there I try to do bits and pieces for them and visit once a year.
"Having been flying the Boeing 747 and 777 aeroplanes for British Airways for the last ten years I have been lucky enough to travel all over the world. Whilst many 'First-World' cities have lots of poverty, the poverty in many African cities is still extremely shocking. So many of the basic services that we take for granted in this country just do not exist.
"The academy offers hope to the children, many of whom are orphans or who have lost a parent who have died from Aids, Cholera, Malaria or other diseases.
"Disease is rampant in the slums because of the extreme poverty. However, the school is a beacon in the slum. The kids that go there would otherwise receive no education, at the moment over 100 kids attend and this number is growing." To help the children, Jonathan has organised the Kick Tor Kenya campaign which will see him gather 5-a-side football teams at the Laurelhill Sports Zone next month to raise funds to provide basic school equipment, food and money to pay for teachers for the children. "Kick for Kenya will hopefully be a fun morning," he continued, "where people mho love playing 5a-side football will have a great time and also be able to know that their entrance fee money will go toward a really worthwhile project.
"The school these children attend is not something we would recognise. It is a basic structure made out of tin corrugated sheets with very little resources inside, the kids are taught from a number of blackboards and that's about it. When the school has enough money they feed the kids and it quite often tends to be their main meal.
"The sixteen teams that have entered have each paid £50 and this money will be vital to the school. "The teams consist of some local businesses, youth organisations, local Churches and also Liverpool and Manchester City Supporters Clubs.
"The project has received a lot of local help with Linfield midfielder Tim Mouncey very kindly agreeing to present the prizes to the winning team. Tom Brannigan from Brannigan's Sandwich Bar has also helped me to organise the event, getting the referees and players involved so I'm very grateful to him.
"The competition is being held on May 27 from l0am1pm at the Laurelhill Sports Zone which has been kindly donated for the morning by Lisburn City Council and the trophies are being sponsored by Zest Audio, Lisburn. All of this support is greatly appreciated."
With three young children himself seeing the conditions the children have to live and be educated in encouraged Jonathan to do all he could to help.
"As a father of three myself, it is really satisfying to see these kids getting a chance and thriving and hopefully making something of their lives," he explained.
"The school is in the process of being set up as a registered charity and a lot of local people have done so much to help the children.
"I attend Lisburn Christian Fellowship at Queen's Road and I am extremely grateful to the people there who send money and equipment out to the school every month which goes toward resourcing the school and paving to keep it running.
"There is only so much you can do to help alone and the people from the Church have been wonderful in all that they do, but people have good hearts."
Anyone who wants to bring their children to watch the competition at Laurelhill Sports Zone on May 27 from 10am-1pm are very welcome to go along. Donations can also be made toward the campaign and those who wish to make a donation can contact Jonathan at kickforkenva@aol.com.
With a little help from his friends
JONATHAN Hemphill's Kick for Kenya campaign has received a boost thanks to a little help from his friends who will be sponsoring the trophies for the 5-a-side football tournament.
Members of Zest Audio, based at Lisburn Enterprise Park in Ballinderry Road, have not only agreed to sponsor the trophies for the event but will also be taking part.
Owner of Zest Audio, David Honeyford said: "We heard about the event because we go to the same church as Jonathan. We are also involved in the fun-football league 6-a-sides on the astro-turf pitches on Friday nights so we are putting together a team, although I seriously doubt we'll be collecting our own trophy."