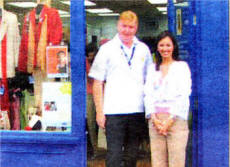 THE new Marie Curie Cancer Care shop in Lisburn has been officially opened by UTV Sports reporter Claire McCollum
The new shop in Market Street is specifically a local hospice shop, meaning that all money raised will help fund the Marie Curie Hospice, Belfast.
"Unfortunately few of us will go through life without being affected by cancer in some way," said Claire.
"The Marie Curie Hospice, Belfast provides nursing care to people with cancer, 365 days a year.
"The hospice focuses on providing the best possible quality of life for people with cancer and all services are provided free of charge to patients and their families.
"Marie Curie Cancer Care shops help to provide the funds for the Marie Curie hospices and so it's vital we all help where we can," she added.
Ms McCollum was joined by local Marie Curie Cancer Care Nurse David Keown, who urged local people to get behind the shop.
He said: "We're hoping local people will support the new shop by providing much needed donations. These are hugely important to the charity, helping to raise much needed funds for more local nursing care. I would personally like to ask the local people in the area to support Marie Curie Cancer Care.
"Even small donations of clothing, accessories, books, CDs or unwanted gifts will be gratefully received and can help to make a real difference," he added.
As well as donated goods, the Lisburn shop also needs volunteers to help run it. People of all ages with a few hours to spare are needed and retail experience is not necessary. Anyone interested in helping should contact 01793 582 500.
Claire McCollum with Marie Curie Nurse David Keown at the opening of the new Shop. US28714SP