by JULIE-ANN SPENCE,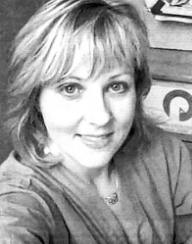 A FORMER Lisburn woman, who now lives in the United States, has been honoured in her adopted home, after being named one of the ten best nurses in Arkansas.
Martine Camlin, daughter of June Camlin and the late Edward Camlin, was a student at Laurelhill Community College and Lisburn Institute, before going on to study nursing at Queen Mary's in London.
Martine moved to Arkansas several years ago and has been working in the bone marrow transplant unit at University of Arkansas for Medical Sciences (UAMS) since 1993.
Martine, known as Tina to her friends, was nominated by her friend Sherri Clay. "It's her heart and compassion that sets her apart," explained Sherri.
Martine goes out of her way to make each and every patient feel special. However, there was one occasion, which was particularly memorable for her.
After building up a close relationship with a patient who had been in isolation for eight weeks, Martine decided to hold a tea party to cheer her up.
"I told her I like to teach my American friends how to have a real English tea party," explained Martine.
"The next day I went and gathered my bone china, linens, napkins, strawberry preserves, scones, English breakfast tea - everything for a proper English tea party. "I had to arrange everything that morning to make sure work was done so I could spend time with her."
Martine set four places and told the lady she had a surprise for her. "When she saw the table she was so overcome she cried," said Martine.
"Patients battling cancer need hugs, especially when family can't be present. I'm a big believer in the power of touch. "I try to get to know them as a person. I try to find a connection, a common bond.
"When family is present, I try to address their concerns and I act as a go between with the doctor and patient. Advocating is extremely important."
It was during her time at Laurelhill Community College, at the age of 14, Martine decided to become a nurse.
A nurse visited the school to give a careers talk and it was then Martine decided to pursue a career in nursing. "I felt like she was talking to me," said Martine.
While Martine is obviously delighted to have been recognised as one of the top nurses in Arkansas, it is the job itself and the difference she makes to people's lives that is the greatest reward.
"If I can help someone fighting cancer, if they can look back and say 'yes it was a difficult time, but the nursing staff was sweet and kind to me and that really made all the difference,' then that is the biggest reward of all.