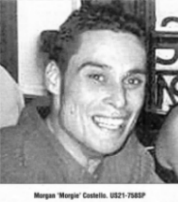 STAFF at Carryduff Auction Group have organised a fundraiser on behalf of a former colleague who suffers from Multiple Sclerosis.
Morgan Costello, known as 'Morgie' to his close friends, worked at Carryduff Auction Group for 10 years but had to leave when his debilitating illness took hold in 2004.
Morgan, who is only 32, is still awaiting further treatment on the NHS and says each day is a struggle for him. Whilst trying to put on a brave face, it is clear the Carryduff man has suffered dearly.
Richard Smith, a former colleague and childhood friend, decided to organise the fundraiser with his fellow work mates to help Morgan raise enough money to have his treatment as soon as possible.
He explained: "Morgie is well known amongst the car dealers and is thought of highly by all.
"He is a great friend and we just want to see his quality of life improve.
"We are hoping that enough money will be raised on Saturday night to pay his medical expenses and recovery, which involves consultation, treatment and travel.
"Our aim is purely to make life a little better for him - the life most of us take for granted."
Speaking about the fundraiser his friends have organised, Morgan said: "I am very thankful to every-one involved in organising Saturday night.
"I don't have much to look forward to these days and I am just about coping.
"Knowing my friends and family are going to great lengths to try and raise money so I can have treatment sooner, means so much to me."
The fundraiser takes place this Saturday night at the Ascot in Carryduff at 9pm. Tickets cost £10 and are available from Carryduff Auction Group and The Ascot. There will be a grand draw with some fantastic prizes.
Anyone wishing to donate prizes or monies to aid Morgan's fund please call 9081 3775.