Ned goes the extra mile for his friend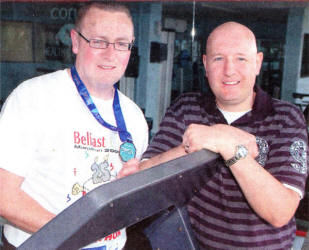 Edward Campbell (left) displays his medal after his recent fundraising run in the Belfast Marathon to friend and colleague Alan Burns in the new Corus Lisburn employees' gym. US21-728SP
LISBURN man Edward Campbell certainly went that extra mile for friend and colleague Alan Burns when he took part in and finished the Belfast City Marathon to raise almost £2,000 to help Alan receive vital medical treatment.
Edward (or Ned to his colleagues) and Alan both work at the Corus Ireland Service Centre in Lisburn, where Edward has been business development manager for strip products for three years while Alan, who works in the same business area, has been there for some 15 years.
Earlier this year Alan was diagnosed with an inoperable cancerous brain tumour. Due to the severity of this condition Alan hopes to travel as soon as possible to the Oasis Centre of Hope Christian Hospital in Mexico, where he will undergo two weeks of special intensive treatment that is not
available to him in either the UK or Ireland. Alan has had to find £25,000 very quickly to go to Mexico for this treatment and is grateful and very much touched by everyone's generosity and help.
"I can't thank Ned enough for his efforts and indeed everyone who sponsored him to run in the Marathon" Alan said.
"I am grateful for Ned's fantastic achievement and very much touched by the generosity of friends, colleagues, Corus themselves, their customers and suppliers who are helping me reach my dream to get the treatment I need so much.
This was Edward's first marathon. He had trained hard in preparation using the employees' gym at the Corus site in Lisburn, but he still found it very tough experience.
"Had it not been for such a worthwhile cause I would have given up at around 17 miles," Ned admitted.
"Just before this, at about 13 miles, we had to run uphill along the Antrim Road out of Belfast for over three miles.
"I thought I wasn't going to make it but didn't want to disappoint anyone, so I battled on through the pain barrier to complete my first ever Marathon in 5hrs 14mins.
"I would really like to thank everyone who supported me and also like to personally thank members of my family, friends, customers and suppliers for their generous donations. I'm really delighted that we have raised so much to help Alan," he added.
With help from Alan's church, the Ulster Temple in Belfast where Alan is also a Sunday School teacher, he has now raised the full amount for the travel and treatment and is booked to leave for Mexico on June 13 for a total of eighteen days.
"On behalf of everyone we wish Alan a safe journey, sending him our best wishes and prayers and we look forward to meeting up with Alan when he returns. We wish him all the very best," said Ned.