`NOTHING'S CLOSER TO HEAVEN'
by JULIE-ANN SPENCE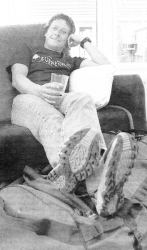 Dromara man Noel Hanna who climbed Everest. US26-121A0 Picture
By: Aidan O'Reilly
DROMARA man Noel Hanna is back home and putting his feet up in Dromara after reaching the momentous heights of Mount Everest.
But he'll never forget the incredible feeling as he stood on top of the world and thought: "You are standing there on your own and you suddenly realise there is nothing living in this world that is closer to heaven than you."
But his break from the expedition won't last very long as he is already planning his next epic adventure - to the summit of Russian mountain Elbrus in August.
Noel is attempting an awe-inspiring world record as he aims to climb the seven highest peaks of the world's seven continents - Everest, Elbrus, Aconcagua, Kilimanjaro, Carstensz Pyramid, Denali and Vinson - and make his way back down to sea level in the shortest possible time.
He is already well on his way to his target, having climbed Everest and cycled back down to sea level at the Bay of Bengal.
He has also climbed South America's highest mountain - Aconcagua in Argentina.
Noel reached the summit of Everest on May 21, less than two months after leaving his home in Dromara at the beginning of April.
"It was really two expeditions for me" Noel explained. "For a lot of people, once they reach the summit they can chill out and celebrate, but I still knew that I had to cycle back down to sea level.
"I am trying to set the world record for climbing the highest peaks in each continent and then getting to sea level by human power.
"I decided that people had climbed Everest before so I thought I would try to do something different: it's another added challenge.
"Since I turned 30, I have wanted to constantly challenge myself."
Noel had attempted to climb Everest last year, however due to retinal haemorrhaging, which caused him to temporarily lose his eyesight, he had to abandon his attempt.
Nevertheless, and despite warnings from his doctor that the same thing may happen again, he was determined to reach the summit.
"Last time it was very annoying because we had put so much effort into it and then something happened that I had no control over and we had to turn back," said Noel.
"It was a possibility that it would happen again but it was a gamble and I just had to take one day at a time."
Noel explained that everyone who hopes to climb Everest knows of the dangers involved. However these dangers were brought home when two of Noel's team mates lost their lives in the attempt.
"Two of our team died - Thomas from Germany and Igor from Russia," explained Noel. "It was very difficult. We don't know what happened to Thomas. We think he took a heart attack because he just collapsed and was dead within minutes.
EXHAUSTION
"Unfortunately Igor didn't make it to the summit. He came to the camp with us and the next day he died. They think it was sheer exhaustion and dehydration."
Noel also had a stark reminder of his first attempt at Everest on his way to the summit. "The climber I was with last year died 50 metres from the summit," he explained. "I recognised his body when we passed him this year. That brings back a lot of memories. Thirteen months ago we were eating lunch together. You know when you are going up that at least two members of your team will not come back."
Despite a few upsetting moments along the way, not least of which when his oxygen failed and Noel had to climb without oxygen for an hour, he was delighted to reach the summit.
"I was very happy with my climb," he said, "because there were no real problems. You never really know if you are going to make it until you reach the summit."
Now back in Dromara, Noel is already starting to feel restless and is planning his climb in Russia, and is even considering more adventures next year, with another attempt at Everest with his wife Lynne and possibly even an expedition to both the North and South Poles.
He has had a lot of support from local businesses, which have enabled him to reach new heights in climbing and he is hoping to secure sponsorship for his next big adventures.
"I have had a lot of support from local people and business," he said. "Gordons Chemist, O'Hares Bars and Lounges, Raw Outdoors, Mountain Hardwear Clothing, Burrendale Hotel and Giant Cycles UK have all given me great support and I would like to thank them for that.
"Of course, I would also like to thank my wife Lynne for supporting me along the way and I know she would love to have been with me on the summit of Everest."