ON TOP OF THE WORLD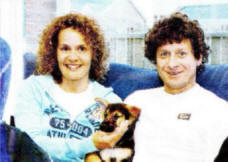 DROMARA man Noel Hanna is on top of the world this week after achieving his dream of reaching the summit of Mount Everest.
This was Noel's second attempt at the mighty feat after being forced to give up last year when he suffered retinal haemorrhaging that caused him to temporarily lose his sight.
However, he was so determined to reach his goal that he returned to the snowy peaks of Mount Everest, battled stormy conditions and finally stood proudly at the top of the world, conquering the highest mountain on earth.
He reached the 29,000 feet summit with five of his team mates on Sunday morning at 8am Tibetan time.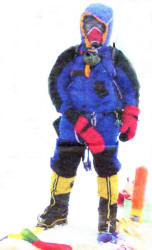 After descending back to base camp this week he spoke about his mountainous achievement.
"I am really happy that I have done it," said Noel. "So little of our team summit-tat, only six out of twenty, so I am really delighted.
"I was really determined to do it this time after having to stop just short of the summit last year.
"It went very well and I had no problems with my eyes this time, which was one of my biggest worries.
"The weather wasn't great but we just kept going," he added. "It was very stormy and the snow was blowing everywhere.
"When we got to the top you couldn't see very much and we couldn't stay for long over 8300 metres.
"A lot of the other teams turned around because of the weather but luckily we kept going and we made it."
While Noel is delighted that he reached the summit, the celebrations were tempered when one of his colleagues tragically died on the descent.
"Unfortunately one of our team members died coming down again," explained Noel. "It is more dangerous coming down than going up.
"Last year one of our team members died just 50 metres from the summit. We passed his body on the way up and you could still recognise him. It brought back a lot of memories.
"A lot of people have died on the mountain and we were stepping over bodies but if you thought too much about it you would never go up."
Reaching the summit of Mount Everest might be enough for some people but that is not the end of Noel's adventure.
Now at base camp, he will be leaving to cycle down to sea level.
The journey will take around three weeks and will be a lonely time for the Dromara man. "I am leaving from base camp on Friday to cycle down to sea level," he explained. "I will be cycling on my own for three weeks.
"I will have a vehicle following me but I will be cycling alone for ten or twelve hours a day. The more I cycle each day the sooner I will be home."
When Noel returns to Dromara in June he is certain of a warm welcome. His wife Lynne, who also attempted to climb Mount Everest last year, said she is "delighted" that Noel made it to the summit. "I am over the moon," said Lynne, "and I just wish I was with him."
But huge celebrations are not top of Noel's wish list when he returns to Northern Ireland; he is looking forward to a few well-deserved home comforts:
"I don't know about celebrations but I am looking forward to a steak, spuds and a pint of Guinness" he laughed.