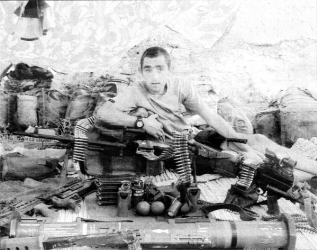 Norman Russell whilst on duty
DROMORE MAN SPEAKS OF TOUR OF DUTY IN AFGHANISTAN
DROMORE man Norman Russell has recently returned from his tour of duty in Iraq and Afghanistan and has spoken of the life and death situations he faced on a daily basis in the war-torn Middle East countries - 'It was the best and worst experience of my life."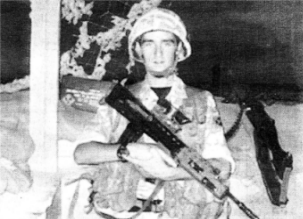 Norman is a former pupil of Dromore Central and Dromore High School. He followed in his father's footsteps and enlisted in the army when he was 21. He is now serving in the First Battalion of the Royal Irish Regiment, based at Fort George in Inverness.
Having been on active service in Northern Ireland, in Bessbrook in 2003 and at Drumcree, his most testing service was spent, not in Iraq, hut during his three months voluntary duty in Afghanistan.
"Iraq was a walk in the park compared to Afghanistan," said Norman, who is on leave at home in Dromore for a few weeks.
"In Iraq we were based near Basra and rotated every six weeks for the six months we were there. We would be guarding the camp, escorting.
"We were busy but compared to Afghanistan it was an easy job," he added. "There was always the threat every day but if you were going to do an escort there wouldn't be much happening."
However, Afghanistan was a completely different matter. As Norman and his fellow soldiers faced the daily prospect of being killed at the hands of the Taliban, it was a very difficult experience for the Dromore man.
"I have heard it said that Afghanistan is like the opening scenes of Saving Private Ryan and that would be about right.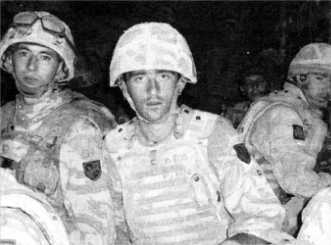 "We were hit by the Taliban eight times a day at one stage. From first thing in the morning until last thing at night they would be firing rockets, small arms, RPGs and 107mm rounds.
"When we first arrived we went out to relieve other call-signs and we got ambushed from three sides within half an hour on the streets. We should have known then what we were up against.
"For 48 hours we were on duty for two hours and off duty for two hours. It was very intense, you never really got to sleep.
"As time went on we got more time off duty but even when you're off duty you are still under threat and never really relax.
"There were times when we even slept in our body armour and helmet."
One of the most difficult times for Norman in Afghanistan was when the reality of being killed hit very close to home. "Two of my mates got hit by a mortar,'' explained Norman. "They were in an outpost, it landed in between them and killed them outright.
"I saw one of them being stretchered out and I couldn't look at the other guy. Usually mortars will be too long or too short so this time we thought it must have missed again. But it didn't. It could have been any one of us up there.
"You're training does kick in straight away and you try not to think about it hut some mornings you do wake up and think 'I wonder is this the day'."
Despite everything he has faced and seen, Norman would not hesitate to return to Afghanistan. "It was the best and worst experience of my life," he said, "but I would volunteer to do it again."