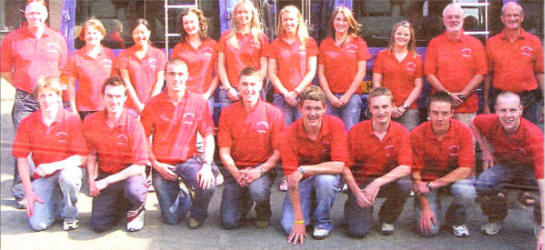 The Wallace High School group who are currently in the Pyrenees completing their Gold Duke of Edinburgh expedition. US27-728SP
FOURTEEN Upper Sixth students from Wallace High School headed off on the experience of a lifetime this week, 'going for gold' in the Pyrenees. Having completed their A level examinations, the eighteen-year-olds headed off to complete their Duke of Edinburgh's Award Scheme Gold expedition along with teachers Lois Stewart, Bill Wilson, Jonny Reid and assessor Alan Pentland.
Lois Stewart, Co-ordinator of the scheme in Wallace High School explained: "This trip is extra special as it takes place in the Golden Anniversary year of the Award scheme.
"Our pupils have undergone a rigorous training schedule in the past eighteen months, involving steep ground work in the Mournes and navigation work in the Wicklow Mountains.

"They have also taken part in a stringent fitness regime, which has prepared them for the conditions they will face in the Pyrenees.

"Last weekend was spent loading up the minibuses and making final preparations for the trip and our pupils deserve great credit for their dedication and time management skills."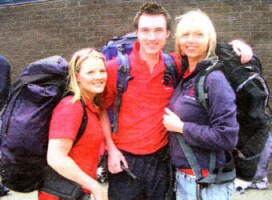 Jamie Elwood, Patrick Black and Stacey Arnott preparing to leave on their Duke of Edinburgh Gold Award expedition to the Pyrenees. US27-727SP
Upper Sixth pupil Stacey Arnott went on to say: "When we arrive in France we will have a three day practice walk from Arrens to Salent in Spain.

"We will then commence our four day Gold expedition, covering 50 miles.

"The round route starts and finishes in Torla, Spain and passes through Gavarnie in France."

Stephen Clarke continued: "We are all really looking forward to the trip and would like to thank the entire Duke Of Edinburgh Award Scheme staff in Wallace for all their hard work over the years and in particular to Mrs Stewart, Mr Wilson and Mr Reid for giving up part of their summer holiday to accompany us to the Pyrenees.

"I'm sure the experience will be unforgettable and it is an amazing way to end our time in Wallace High."

Lois Stewart concluded: "Following the expedition we will enjoy a day in Eurodisney for a bit of fun before we come home to Lisburn in mid July.

"I encourage people to keep an eye on our school website –
www.wallacehigh.org
- for updates on the trip."