THE band, bugles, pipes and drums of the Royal Irish Regiment braved the elements at Lagan Valley Island on Friday night for what was to be a particularly poignant `beating retreat' ceremony, likely to be the last of its kind before the home regiments of the Royal Irish Regiment are stood down in 2007.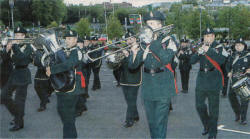 The RIR Band performs its musical and marching programme at the Beating Retreat ceremony. US21-752SP
Torrential rain didn't deter the crowds however, as spectators gathered to enjoy the musical and marching programme to honour the men and women who make up the largest infantry regiment in the British Army. Speaking at the ceremony, the Mayor Councillor Jonathan Craig commended the regiment for its contribution to achieving normalisation for Northern Ireland and afterwards said: "I was delighted that so many people turned out to see the band of the home Regiment, on what has been a very enjoyable evening in spite of the weather.
| | |
| --- | --- |
| | |
| The Regimental dog handler with Mascot Brian Boru VIII and the buglers of the Royal Irish Regiment Band. US21-750SP | The Mayor, Councillor Jonathan Craig and Mayoress Yvonne Craig present Colonel Mark Campbell with a gift and cheque for the Benevolent Fund of the Royal Irish Regiment. US21-751SP |
"Naturally we are very disappointed that this is likely to be that last ceremony of this kind, as Lisburn has a long association with the Royal Irish Regiment, but we are very pleased that regular army musicians from the band of the Royal Irish Regiment will be posted to other bands once it is disbanded."
Beating retreat is an old custom for the Army dating back to the 16th Century, when it was known as Watch Setting.
Over the years the ceremony has been embellished with the addition of pipers and regimental bands and today the ceremony takes the form of a musical pageant.