ONE of the main gateways into Lisburn is in line for a major multi-million pound redevelopment, including a hotel, which would create a prestigious riverfront quarter for the city.
Lisburn City Council launched a development framework this week for the Young Street area as part of the Council's vision to re-open the river Lagan and create a higher level activity on the riverside and carry out development which enhances the river.
Apart from a much needed 100-bed city centre hotel, the exciting plans for the riverside area include office and residential developments, a landmark building with restaurant, the re-instatement of Young Street/ Hillsborough Old Road frontages and high quality public realm space. The design of the new development is of great importance, with the planners stating: "It is ofparamount importance the buildings and the spaces around them are of the highest possible quality in terms of design and materials, in order to create a showpiece riverfront quarter for Lisburn, which appropriately reflects the prestigious location and promotes Lisburn City Centre as a contemporary and vibrant European city." Consultation has already taken place between the Council's Planners BDP, the current landowners and the statutory agencies which have an appropriate remit.
Riverfront quarter planned for city
Launching the proposals this week Chairman of Lisburn Council Economic Development Committee Alderman Edwin Poots MLA said the vision for the area would halt the decline that has taken place in the retail sector around Market Square and Bridge Street.
"The proposed development would create a substantial number of jobs within the City that would assist more appropriate retail to be opened up in the Historic Quarter of Lisburn," said Mr Poots.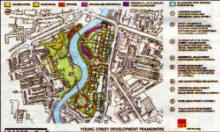 "The proposal to have four storey office/residential developments would lead to a significant increase in footfall for the area and the quality of the development would be high given its riverside location and the potential for quality architecture to be constructed.
"We are also keen to see the proposed hotel development take place and welcome the fact a suitable inner-city site has been identified while recognising its development could be constrained by the current landowner's reluctance to sell the necessary land."
"The Council are also keen to see new sites developed for the retail park that currently exists at Young Street and we would hope that a positive outcome can be achieved on a recent planning application for such development at Sprucefield.
Economic Development Vice Chairman Allan Ewart welcomed the fact the key landowners were in attendance at the launch.
"The Council have given a guide to what could reasonably happen on the site and it is now over to the private sector to move the proposals forward," said Mr Ewart. "This has the potential to deliver a very exciting development which would introduce a significant number of quality office jobs to the City Centre and revitalise this riverside location."
Ulster Star
24/03/2006