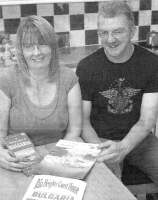 Local couple, Rosie Finlay and Gary Crouch, who will be exchanging life in Lisburn for Bulgaria this month. US35-523C0
THERE have been many people in recent years who have exchanged living in the Eastern bloc to live in Northern Ireland. However, the situation has been reversed for one local couple who are leaving Lisburn to start up a new life in Bulgaria.
Rosie Finlay and her partner Gary Crouch, who live in Hill Street, have recently purchased a property in the mountains of Bulgaria after falling in love with the area whilst holidaying there.
They are currently preparing for the move, having sold up their home and belongings, taking only themselves and their golden retriever dog, Flynn, with them.
The couple are also beginning a new business venture with the move, as they will be opening a guesthouse, called Rila Heights, in December.
Rosie said, "We went for a holiday there in July last year and just fell in love with the place, so we did a bit of research and thought, 'that's the place'.
"It's very inexpensive at the minute and the mortgage is free so we'll have a bit of relaxation and then get started with the business."
Rosie and Gary will leave Lisburn on September 17 to begin their new life in the beautiful Rila Mountains, near Rila National Park and Borovets Ski Resort close to the cosmopolitan city of Sofia.
Rosie commented, "We discovered the area by chance - we had been on a two week holiday with one week at the beach, which isn't really our scene, and one week in the mountains and we loved it - we didn't want to come home.
"It's absolutely gorgeous. We will be living in the guesthouse, so when we go over we will have to get everything ready for opening in December. It needs a bit of TLC at the minute, its been renovated and it's very habitable but it needs a bit of a western touch."
She continued, "My family think it's great, they think we're very brave. I have three grownup children, one of my daughters thought it was great, she would have come with us only my granddaughter is only eleven and will be changing schools, but she has already booked flights to come over in October.
"The others were a bit wary of mummy going away but it so close, the world is a lot smaller these days."
With a large number of tourist attractions on their doorstep, Rosie is expecting to be kept busy in the new guesthouse, Rila Heights.
"From December to March or April there will be a lot of skiers in the area," Rosie explained, "then through to October the area is busy with hikers and walkers, it is a very eco-friendly area that attracts a lot of tourists - that's what we are hoping for anyway.
"We're really looking forward to the move, although it's very nerve-wracking. We've just signed the final papers and it's sort of like, 'oh my God, what have we done?'. It makes us realise how much we are going to miss everyone.
"We can't wait to go and then at the same time we're so nervous. It's very scary.
"We don't speak any foreign languages at all but we plan to learn when we get there. There are local young people who go to college and are learning English so we will probably employ someone to teach us Bulgarian.
"The guesthouse will be multilingual anyway with tourists coming from various countries, so hopefully they will speak English, otherwise there will be a lot of pointing going on for a while."
The preparations for the move are taking a lot of time for Rosie and Gary, but it's not getting themselves to Bulgaria that i causing the problems at the minute.
"It's taking more energy trying to get the dog out to Bulgaria at the minute," she explained. "It was too expensive to fly him as it would have cost £3,000 so we are driving, but we need permits from each country and we will be travelling through France, Germany, Austria, Croatia and Serbia - it will take four days but where we go he goes."
She concluded, "I can't wait to get there, I've only seen the house once, I can look at it on the internet but it's not the same, we're just really looking forward to it."
You can view Rosie and Gary's new home on the internet too by visiting their website at www.rilaheights.homestead.com.