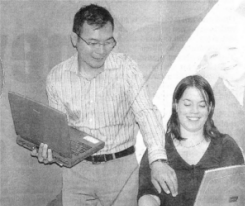 A STEERING group campaigning for integrated primary education for the wider Moira area is launching a new website www.RowandaleIPS.co.uk today (Friday).
This website will provide background information about integrated education and up-to-date details of events and campaign progress.
The development of the web-site was made possible through the goodwill, commitment and dedication of campaign supporters, Linda and Jonny Buchanan.
Dave Foster, Chair of the Rowandale Integrated Primary Education Steering Group thanked them wholeheartedly for their support.
"The strength of desire for integrated primary provision in the area is epitomised by the outstanding contribution made by our supporters," he said.
"Linda ran in the Belfast Marathon in order to raise funds to sponsor the website and her husband Jonny donated his computer expertise, free of charge, by assisting in the development of the website."
The Steering Group is delighted with the design of the website and believe it will further enhance their campaign to secure integrated primary provision for the wider Moira area.
Secretary of the Steering Group, Danielle Sinclair, encouraged parents to check out the website.
"Those who want to find out more about our campaign will have the opportunity to do so from the comfort of their own homes," she said.
"Parents who wish to show their support can even download an Expression of Interest form and return it to NICIE."
This dedicated group are campaigning, with the support of NICIE and the IEF, on the basis that they believe parents should have the right to choose to have their children (Catholic, Protestant, other faiths and none) educated together in an integrated environment.
For further information please contact Paula at NICIE on 9023 6200.