EDUCATION Minister Angela Smith received a colourful taste of school life when she visited St. Joseph's Primary School, Crumlin on Tuesday.
Mrs Smith went to the school after she met the Principal of St. Joseph's Mrs Catherine Wegwermer on a recent BBC `Hearts and Minds' programme.
She was warmly welcomed by the Chairperson of the school's Board of Governors, Fr. Ciaran Feeney, and by Parish priest, Fr. Luke McWilliams. The private visit gave the pupils an opportunity to meet, question and chat with the Minster for Education.
Mrs Wegwermer then led the Minister on a short tour of the school, with pupils as young as year two sharing their learning experiences with Mrs Smith showing her a range of activities including shopping tasks and their independent use of interactive white boards.
The minister viewed pupils engaged in a wide variety of learning activities, from practical maths in the outdoor classroom to year seven pupils' extensive use of ICT.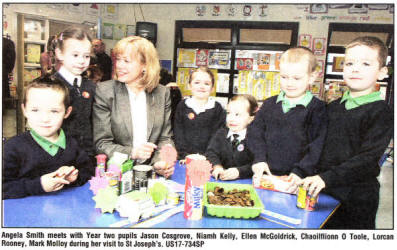 The children were more than happy to talk to her about their digital movie animation work, use of the digital microscope and creation of multimedia slide shows.
Along with members of the school community, Mrs Smith was treated to special assembly on 'The Life of St. Joseph's.' At this, pupils had an opportunity to ask the minister some of their own prepared questions. Her responses gave them an insight into her role as Education Minister.
The visit ended with an informal reception with representatives from the whole school community. Mrs Smith was presented with flowers and a gift as a memento of her visit.