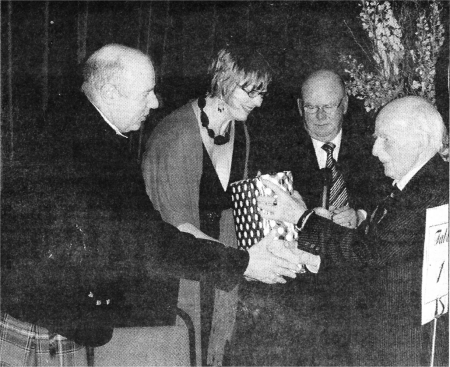 Former principals Mr Norman McClelland and Alderman Samuel Semple presenting present Mr Jim Sheerin and his wife with a gift.
A GALA dinner dance has been held to mark the 50th anniversary of Lisnagarvey High School.
Former members of staff and pupils joined with current staff, board of governors and pupils to celebrate the contribution the school has made in the life of the local community.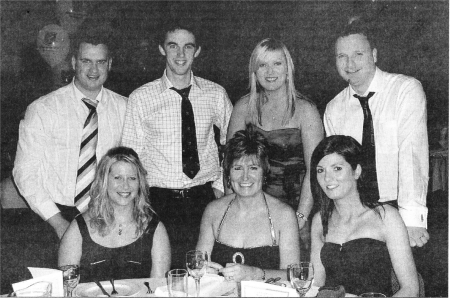 Lisnagarvey High School staff at the recent gala dinner dance.
Special guest of honour, former Principal Mr Norman McClelland, reflected on the many changes that had taken place in his 40 year association with the school.
He noted the introduction of girls 10 years ago and the many improvements and upgrades in facilities, which have helped keep the school to the forefront of educational developments.
Spent
This year alone £20,000 has been spent on a new state of the art fitness suite and in the provision of a designated 6th form study centre.
In a special presentation to new Principal Mr Jim Sheerin, former Principal Alderman Sam Semple (1966-82), reminded the audience how the school had always tried to provide for its pupils an education it the broadest sense, striving for excellence in academic, sporting and cultural fronts.
Concluded
He concluded that to be involved in the education of a nations youth was one of life's highest privileges.
Entertainment was provided by the Victor Currie Big band.
Have you any memories of Lisnagarvey High School in its early days? If so e-mail jenny.monroe@jpress.co.uk