by JENNY MONROE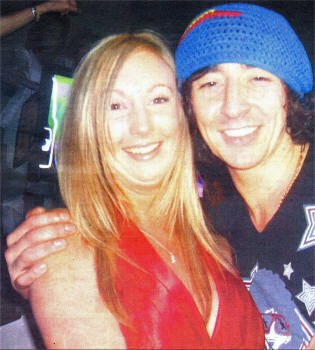 Mark Cowan with Claire Kennedy in Rome where they got engaged.

LISBURN'S top mixing master has been crowned the world's best DI - and put the crowd in a spin by proposing to his girlfriend.
Mark Cowan, 24, competed in the final of Movida Corona - the world's biggest DJ competition - and wowed not only the judges, but also his partner, Claire Kennedy.
Mark, who is known behind the decks as Afro Thunder, said: "This has been the most unbelievable experience of my life. It is the most amazing feeling to win such a major international competition against so many top DJs. And, of course, to top that the girl of my dreams agreed to marry me."
Claire, also 24, travelled to Rome to support Mark in his performance against top-class Dis from over 70 countries. He had just eight minutes to prove his mixing skills. He was then selected to perform in the final eight, where he had another ten minutes to impress the judges.
Mark was presented with his Movida Corona world champion title, a Suzuki GSX-R1000 and also, most importantly, a crowd-pleasing marriage acceptance from Claire.
Angel Garcia Gomez, head of Corona Extra in the UK, said: "Mark has shown great talent and drive throughout the competition. "Movida is a Mexican word meaning risky or on the edge, which really reflects the cutting-edge styles of his performance. We all wish Mark and Claire the best for the future" Gary Flynn, brand manager for Corona Extra at Belfast-based importers Philip Russell Ltd, said: "Mark was a worthy winner in a competition that produced some fantastic Dis. "