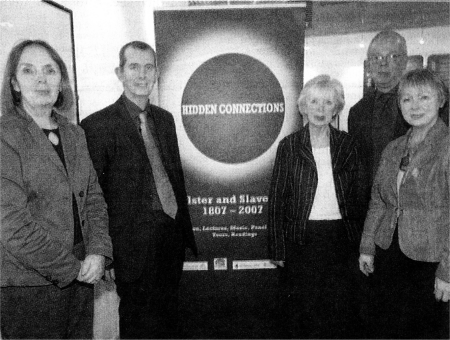 Culture Minister Edwin Poots with Doctor Grace McGrath (PRONI), Joan Christie, John Gray (Linenhall Library), and Beth Porter (Lisburn Library) at the "Ulster & Slavery' exhibition US5007401PM Pic by Paul Murphy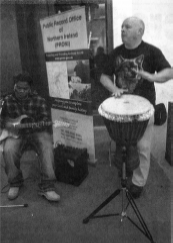 CULTURE Minister Edwin Poots has opened a major exhibition at Lisburn Library marking the bicentenary of the abolition of the slave trade.
Mr. Poots said the event, entitled 'Hidden Connections', was important as it allowed some of the difficult and complex issues involved to be addressed.
He also said it was important the role of Ulster in the slave trade and the anti-slavery campaign was fully understood.
Exhibition visitors can view a portrayal of the various connections between the province and slavery through original images, manuscripts and artefacts, as well as contemporary books held by the Public Record Office, Linen Hall Library, Ulster Museum and many others. "It is an honest exploration of the hidden his-
tory of involvement in the slave trade, including those Ulstermen and women who campaigned against it, as well as those who played a part in it," Mr Poots said.
FITTING
"It is fitting that this informative campaign should visit our libraries to deliver its message."
The exhibtion marks the Public Records Office of Northern Ireland's contribution to the Archive Awareness Campaign 'Freedom and Liberty' which looks at the struggle for human rights in the past.
The campaign is coordinated by the National Council on Archives with support from The National Archives and the Museums, Libraries and Archives Council. It is now an annual event which aims to showcase and promote the rich archival heritage that exists in both in the United Kingdom and Irish Republic.