Money to boost vital African Charities
by JULIE-ANN SPENCE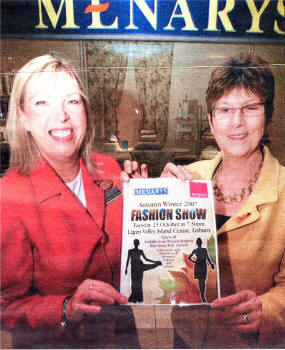 Lorraine Hayes and Mona Thomas launch the Menary's Fashion Show to help raise money for projects in Kenya and Ethiopia. US4007-544C0
LOCAL women Lorraine Haynes and Mona Thomas are the inspiration behind a charity fashion show being held by Menary's at Lagan Valley Island Civic Centre on Tuesday October 23.
The show, which will feature men's and women's clothing from all of the concessions in Menary's and Tempest in the Bow Street Mall, will raise money for charities very close to Lorraine and Mona's hearts - Operation Rescue Ethiopia and the Metropolitan Sanctuary for Sick Children in Kenya.
Lorraine and Mona were determined to raise much-needed funds for the two charities after visiting the impoverished countries with their local churches.
Mona recently spent time in Mekelle in Ethiopia as part of a missionary team from Ballinderry Parish Church. "We were teaching the gospel to the children of the village who were being educated in a centre after their parents died of HIV/Aids," explained Mona.
"The experience was both depressing and uplifting. We were initially shocked at the poverty but then you could see God working. "We also visited a school for the blind, which was horrific. It was run by the government and they had very little of anything.
"Hopefully my half of the money raised will be split between those two causes," added Mona.
Lorraine was also inspired in her fundraising efforts when she visited Neyeri in Kenya with a team from the Metropolitan Tabernacle. "The church acquired a piece of land and a derelict building, which was totally renovated to become a hospice for sick children, the only one of its kind in Kenya," explained Lorraine.
"When I first went out I couldn't believe in the 21st century what I saw but you could see the Lord working in these people," she continued. "They might not have much but they were full of the love of God and that is what humbled me."
When Lorraine and Mona returned from their visits, they began talking and decided they had to do more to raise money for the charities. They recently completed a sponsored walk and then realised, by working in Menary's, they were in the ideal position to organise a charity fashion show.
"Everyone in Menarys has been really helpful and supportive," said Mona.
And Lorraine has also been moved by the help she has been offered by her employers, Clarins. "The support we have had has been brilliant," she added. "Nothing has been a problem."
The fashion show at the Civic Centre on Tuesday October 23 starts at 7.30pm and tickets, priced £8, are available from any till point in Menarys in Bow Street Mall.