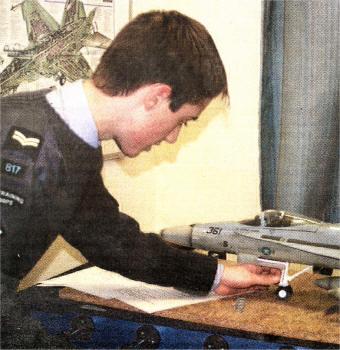 Alex gives a lecture on fast jets. US4007
A LISBURN Air Cadet is one step closer to fulfilling his dream of becoming a pilot.
Cadet Sergeant Alex Wright-Jones, who is a member of 817 Lisburn Squadron, Air Training Corps, has just begun a degree in Aviation Technology at Leeds University. This will not only develop his knowledge of the science of flight, but also gain him a private pilot's license.
Alex has been a member of the ATC since September 2003 and throughout his time with the cadets has had many opportunities to build his flying experience – a total of 15 hours free flying to date.
Alex flew solo in a motorized glider before even being able to drive a car. This was completed as part of his Gliding Scholarship which he has continued to Advanced Level.
"I had to learn to land the Glider in a crosswind and do steep angled turns. I also had to do a forty-five minute solo flight consisting of five take-offs and landings" he explained.
In recent months Alex has attained excellent results in his A levels at school at Banbridge Academy whilst his service led to him qualifying for the BTEC Diploma in Public Services which is equivalent to four extra GCSE's.
817 Lisburn Squadron are currently recruiting energetic young people with an interest in aviation. For further information, please contact: Flying Officer Brian Christy RAF VR (T) at email Brian.christy@lishurn817.com.