by STACEY HEANEY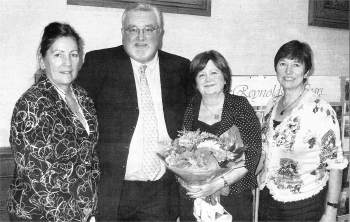 At the Retirement Lunch for Alister McReynolds at the Lisburn Campus of South Easter former Principal, Eileen McReynolds and Eleanor Ross Vice-Principal.
THE PRINCIPAL of Lisburn Institute Alister McReynolds has retired after almost 30 years at the college.
To mark his retirement, a staff farewell was organised last week. Vice Principal of the new South Eastern Regional College, Eleanor Ross led the tributes to Mr McReynolds.
"I have only worked with Alister for around four years now and am very sad to see him retire from his position of Principal," she said. "Alister is something of a perfectionist who likes to put his heart and soul into everything he does.
"Alister took up a full time lecturing post in what was Lisburn College in 1978 after teaching in Larkfield School. Then in the mid 1980s he became a Senior Lecturer before being appointed as Head of Department for General Studies.
"Alister was elevated to the lofty heights of Principalship at Lisburn College (later to become Lisburn Institute) in 1994, a position in which he served for 13 years."
Staff member Lunette Burton made a presentation on behalf of the staff and also paid tribute to Mr McReynolds.
"I have known Alister throughout his time at the College and we have worked together in many guises – I would like to wish him all the very best for the future" she said.
Reponding, Mr McReyolds said: "I have so many fond memories of my years at the College and have made many good friends. I would like to take this opportunity to thank all of those whom I have worked with this past 29 years and wish you every success in the future."
A well-known figure in the Lisburn area, Mr McReynolds does not intend to take it easy. He will be launching a new book before Christmas and is editing another book. He had also become an Honorary Fellow of the University of Ulster which will involve a great deal of time being spent at various Universities in the United States giving lectures on his specialism Scots Irish Diaspora and also presenting television programmes, again in the States.
He has published numerous articles on the Scots Irish and broadcast on the BBC on this topic and on other historical subjects. He is a regular contributor to the monthly periodical 'The Ulster Scotsman' and a recent work was entitled 'Northern Ireland – The American Connection' which has just been published in the United States on behalf of the Northern Ireland Tourist Board.
Mr McReynolds is a former Secretary of the Rotary Club of Lisburn and a former member of Council of Lisburn Chamber of Commerce.