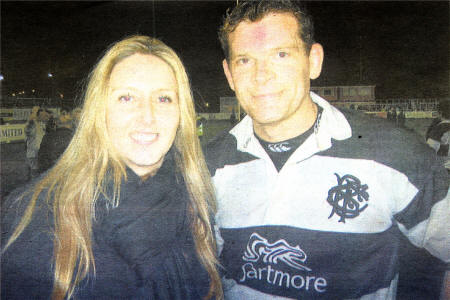 Andrew with his wife Natalie after his match playing for the legendary Barbarians.
LOCAL man Andrew Kennedy will shortly be hanging up his rugby boots, however he received one of the highest honours in the sport last week when he was invited to play for the exclusive Barbarians.
Andrew, who is the Tourism Development Manager at Lisburn City Council, was selected to play in the Annual Remembrance Day match on Wednesday November 14 in Plymouth, England against the Combined Services.
The Barbarians, or Baa-Baas as they are often referred to, were formed in 1890 to allow players who were opponents to play with each other. Throughout their history some of the world's best rugby players have represented the club, and with membership by invitation only, it is deemed an honour to wear their famous black and white jersey.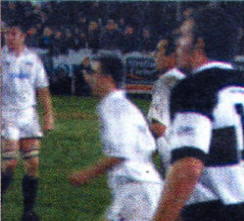 Andrew, who is originally from Australia, a big rugby nation, was delighted to be added to the elite list of Barbarians players.
"It is a big honour," said Andrew. "My friends and family back home are pretty happy and proud and my wife and her family came over to watch."
Andrew, who has lived locally for seven years, has played for various local club's, including Lisburn, and currently plys his trade with Banbridge RFC. However, he will soon be ending his time with the first team.
"It was nice," he commented, "I'll finish first team rugby at the end of this year so it was a nice feather in my cap. It is a lovely way to go out."
Andrew continued, "I'm not totally sure how I was selected, the only link I have is Dr. Donal O'Shaughnessy, who is from Rathfriland. He is the doctor for the Barbarians and is the former doctor for Ireland and I know him from Banbridge Rugby Club."
Describing his time with the BaaBaas, Andrew said, "On Tuesday we met for training and on Wednesday the Army took us out abseiling. This is an annual event for Remembrance Day and the Combined Services were promoting the game big time so there were 5,000 there watching.
"I came on at half-time and played the second half. We lost 27-24, we were up 24-20 into injury time when their Fijan winger scored a try. We were represented by eight nationalities, including ex-Argentinean outhalf Gonzalo Quesada."
Having received his cap, Andrew was given a lot of kit to keep, he concluded, "It was an amazing experience."
Councillor Allan Ewart, Chairman of Economic Development on Lisburn City Council said, "I was delighted to learn that the Tourism Manager at Lisburn City Council Andrew Kennedy was picked to play for the Barbarians in a rugby match against the Combined Services last week.
"There are few people in Northern Ireland who have had this great honour of playing with the Barbarians. I would like to offer my congratulations to Andrew on this great achievement and wish him well in the future."