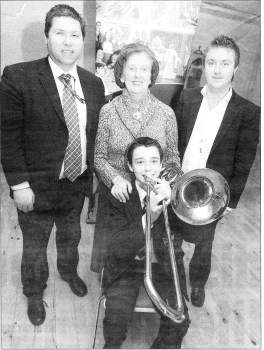 Andrew McCoy receives a grant of �1200 . from Lisburn Arts Advisory Committee to pay for music tuition in London. Presenting the grant are Stephen McLaughlin Chairman of LAAC, Winifred Bell board member LAAC and Richard Yarr, Vice Chairman of LAAC. US0507-127A0
A THIRTEEN year old Lambeg boy has been awarded a grant by the Lisburn Advisory
Committee to help with the costs of travelling every week to The Royal College of Music in London.
Last year, Andrew McCoy was invited to attend an audition to The Royal College after being awarded a Leverhulme Scholarship from the National Children's Orchestra of Great Britain of which he has been a member since 2005.
After successfully completing the audition in June, he was offered a place in the Junior Department.
At his audition, both Peter Hewitt, the Director of the Junior Department and renowned trombonist and RCM teacher Simon Hogg described Andrew as "hugely talented, lots of very good potential, musically aware".
Andrew and one of his parents travel to London each Saturday where he has lessons in trombone, piano and musicianship as well as performing in various ensembles.
Andrew's father David said: "We leave the house at 5.30 in the morning to get the first flight to London for Andrew's classes which begin at 9.30. They finish at 5.00pm, and we arrive home by 10.00 in the evening.
"It's a long day but Andrew is finding it both rewarding and enjoyable."
Lisburn Arts Advisory Committee Chairman Stephen McLoughlin, said : "The Committee are delighted to be supporting such an incredibly talented young artist."
Andrew, plays in various groups in school Methody, including the orchestra and jazz banc as well as the music group at his Church . He also travels to England three times a year for week long residential courses with the National Children's Orchestra of Great Britain performing in such venues as The Queen Elizabeth Halle, South Bank