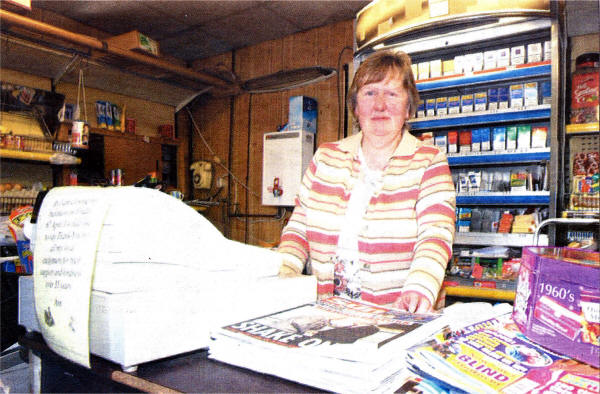 Ann McCourt in her Ballymacash shop before closing for the last time last week. US1507-107A0
AFTER 35 years of serving the local community, a Lisburn woman has pulled down the shutters of her grocery business for the final time.
Last week Ann McCourt, 57, closed her shop - known to everyone as 'Ann's Shop' - on the Ballymacash Road.
As the lease of the property was coming to an end, Ann decided it was time to hang up her shopkeeper's apron and take life easier. She explained: "It was my own decision to close but I am sad to be saying goodbye to all my customers who have been so loyal over the years."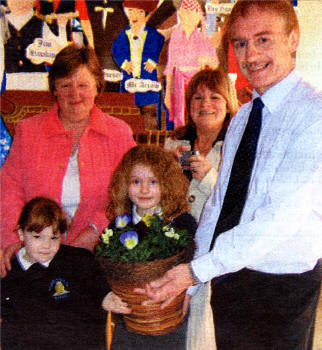 Ann continued: "My father ran the shop before me so it has been part of my life for a long time.
"Everyone has been so kind and I would like to thank all the customers and councillors who have shown their appreciation with lovely gifts."

Ann hasn't made any plans for the future but she is looking forward to spending time with her family.

She said: "I haven't made my mind up about what I am going to do now in my spare time. It will just be nice to take it easy as running a small business does tie you down."

Local Councillor Jonathan Craig thanked Ann for her long service to the community.

"Ann is well respected and thought of by the whole community and I wish her a happy and well deserved retirement" he said. Councillor William Leathern added: "Ann will be sorely missed as not only did she provide a service in goods but also on many occasions she acted as an agony aunt giving advice to many."

RIGHT - The pupils and staff of Ballymacash Primary School said thank you to Ann McCourt at a special school assembly. Presenting a gift on behalf of the school are P3 pupils Karen Davidson and Anna Geddis. Also pictured is the school principal Mr Wes Gilmore and Christine Forsythe, a former pupil, member of staff and friend of Mrs McCourt.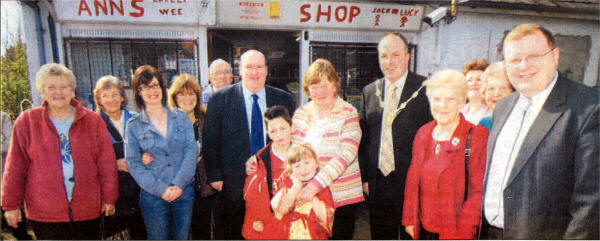 Ann McCourt outside her shop with Deputy Mayor Jim Tinsley, former customers, family and friends. US1507-106A0
Picture By: Aidan O'Reilly
---
Ann overwhelmed by kind wishes
A LISBURN woman who pulled down the shutters of her grocery shop for the last time recently, was overwhelmed by the support and kindness shown by her loyal customers. Ann McCourt, 57, served the local community for 35 years, in her shop - known to everyone as Ann's Shop - on the Ballymacash Road. When she decided to close the business in order to take life a little bit easier her customers showered her with gifts and kind wishes.
Ann explained: "After the article about the shop closing appeared I had even more people wish me all the best for my future. `Some people thought that the shop's lease was coming to an end and that was why I decided to close but I just decided that I wanted to take life easier and spend more
time with my family.
"I would like to thank all those people who have been so kind and shown their appreciation to the service I provided over the years in Ballymacash."