by MARY MAGEE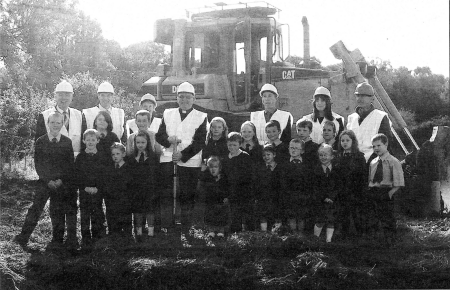 Board of Governors staff and pupils of Ballymacrickett Primary School with parish priest Fr Luke McWilliams, principal Daniel Mulholland and former principal Maureen Loughan, at the cutting of the first sod ceremony.
WORK has begun at the new state of the art primary school at Ballymacrickett in Glenavy.
The school's new principal Daniel Mulholland, along with former principal Maureen Loughan who retired in the summer, were at the cutting of the first sod ceremony.
Also at the historic event at the Scroggy Road site were parish priest of Glenavy and Killead Fr Luke McWilliams, members of the Board of Governors and pupils of the school.
Ballymacrickett Primary first opened its doors 70 years ago in 1937 with an extension built in 1968. As housing developments rose in the Glenavy area so too has the enrolment of the school which now stands at 255. But they are accommodated in just six classrooms and five mobiles.
The new school, being built at land adjacent to the current site, includes 14 classrooms with a separate gymnasium, dining area, library and medical room. Work is expected to be completed next October.
The building of the new school was announced by the then minister Barry Gardiner as part of a huge £222m building programme for Northern Ireland a few years ago.