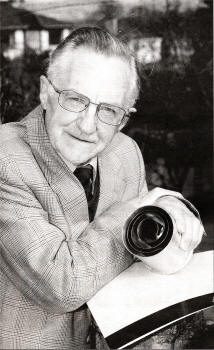 Bill Foster who has published his first book of poems.
AN Englishman who made Lisburn his home 25 years ago has published his first book of poems.
Industrial Scientist Bill Foster who still feels he is a' blow in' after living in the area for a quarter of a century has tapped into a variety of subjects to produce the anthology 'Enjoy'.
These include natural phenomena and the efforts of man to harness them as well as the quirky ways of people and society.
Bill describes his verse as 'strong in rhythm, rhyme and humour' and 'sometimes local'.
He has dedicated the book 'with grateful thanks' to his wife Joyce and also the many others who helped him 'get the show on the road'.
His first poem 'Frothy Man' about what he refers to as the 'guzzle puzzle' of Guinness was written in 1994 and Bill returned to this topic five years later when he composed 'My Goodness! My Guinness!
However, as he explained these two works are just the tip of his poetic iceberg.
"Over the past 12 years I have written on average about one poem per month," he said.
"In total I have composed about 300 poems since I began in the mid 1990's."
Bill and Joyce established the firm 'Litraryfare Publishing' at their Carnreagh Road home as a means of publishing Bill's work.
Anyone wishing to obtain a copy of 'Enjoy' which costs £5.00 should contact them on 92682652.
Bill and Joyce first came to Northern Ireland in the early 1980's when he took a position at Lambeg Industrial Research.
They went on to form their own company Fostech' and Bill is well known in the city as a member of the Lisburn Lions Club.
Fostech continues in business but Bill also makes time to enjoy the pastimes he enjoys.
Apart from writing poems these include horseriding, gardening and walking.