Craig and Gareth prepare for tour of duty in Afghanistan.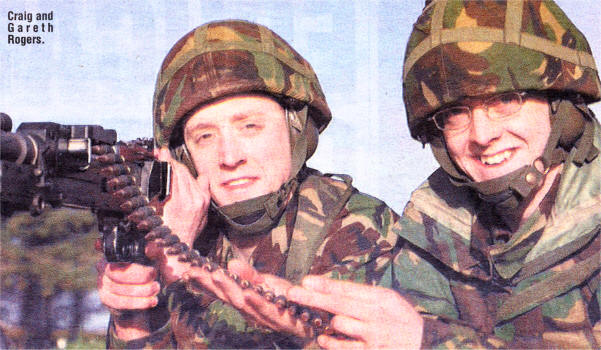 TWO local brothers, Craig and Gareth Rogers, are preparing to leave Lisburn behind to begin a six-month tour of duty with the army in Afghanistan.
The Lambeg brothers will be amongst 20 Territorial Army soldiers heading off to the region later this month.
In spite of the dangers in the region, the two TA Privates are looking forward to the challenges which lie ahead.
Craig said, "This is what we joined up for. We've trained and done our preparation and now we're getting the chance to put it all into practice. Of course we're nervous but we're excited too and I think we're both looking forward to the experience."
Gareth added, "It's a bit unusual, I think, for two brothers to be heading out on tour together but we tend to do everything together anyway. We imagine they will split us up when we arrive in Afghanistan although we'll obviously keep in close touch and we can meet up when we get leave."
The pair are currently going through a training programme before joining a pre-Tour preparation course. Information about life in Afghanistan and the challenges awaiting them are coming thick and fast but they won't know exactly what's in store until they arrive. Craig and Gareth's family is understandably nervous about them leaving.
Craig commented, "Obviously my mum, Alison, was very concerned at her two wee boys heading off into the great unknown, but she's been very reassured by what she heard at the Unit Briefing Day."
Gareth concluded, "I'd like to think the family will miss us but they're reassured that we'll have each other to depend on."