By
Mary Magee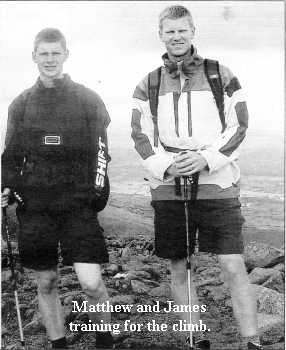 TWO HILLSBOROUGH brothers are preparing to climb one of Africa's highest mountains, Mount Kenya, to raise money to help build a new children's home.
Matthew Kennedy (22) from the Ballynahinch Road and his brother James (20), who work in the family run property development business M G Kennedy Developments, hope to raise £6,000 for Vision Africa.
It is a UK registered charity that works with orphaned and destitute children in the slums and provides education, protection and shelter.
The charity was founded by the brothers' distant relatives, the Rev John and Vera Packard from Manchester.
As part of their training the Matthew and James regularly ' climb Mount Donard and despite the gruelling challenge awaiting them, they are looking forward to it.
"We really want to do this as it will make a big difference to many children's lives," said Matthew.
"All the money we raise will go directly to Vision Africa as James and I have paid the costs of flights, accommodation, food etc of the challenge ourselves."
The brothers will join nine others in the Mount Kenya Challenge which runs from September 5 to 16.
They will climb Point Lenana which is 4,985m over four days. When they first arrive they will fly to Nairobi to visit some of Vision Africa projects in Kibera Slum, Riandu and Kandara children's homes, Kirunguru special needs unit and Kariti Seed of Hope centre.
There are 2.2m people in Kenya who suffer from HIV with 700 dying from the condition every day which has created as many as 930,000 orphans who are under the age of 17.
Kibera, where a lot of Vision Africa's work is concentrated, is the largest slum in East Africa with a population of over lm living in just one square mile
Anyone wanting to donate money can visit www.justgiving.com/matthewandjames or ring Matthew on 92-688519.