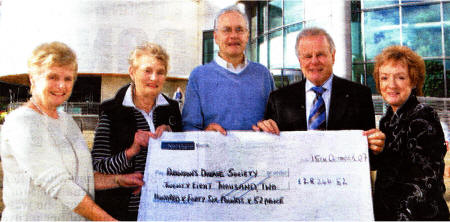 The Lisburn Branch of the Parkinson's Disease Society receives a cheque for more than £28,000 as the Mayor's Charity for 2006/07. Pictured are (l-r) Lisburn Branch Chairperson, Mrs Irene Falloon; Branch Secretary, Mrs Violet Swarbrigg and Branch Treasurer, Mr Stephen Anderson with the former Mayor, Councillor Trevor Lunn and his wife, Mrs Laureen Lunn. US4207-
THE Lisburn Branch of the Parkinson's Disease Society was presented with a cheque for over £28,000 this week by the former Mayor, Councillor Trevor Lunn.
Mr Lunn chose the branch as the Mayor's Charity during his term of office which finished in June.
The funds were raised through events such as the Mayor's Carnival Parade and Family Fun Day, the 25th Lisburn Half Marathon, St Patrick's Day celebrations and in Santa's Grotto at the Irish Linen Centre and Lisburn Museum.
Chairperson of the Lisburn Parkinson's Disease Society, Mrs Irene Falloon, accepted the cheque from Mr Lunn and said: "The Lisburn Branch was delighted to have been chosen as the Mayor's Charity last year and these funds raised will play a vital role in progressing the work of the Charity in Lisburn.
"I would like to extend my heartfelt thanks to Councillor Lunn and to the Mayor's Office and all those involved in the events that helped to achieve this fantastic sum. The members of the Branch and the Committee are very grateful to the former Mayor, not only for his own efforts in raising money, but also for raising awareness about Parkinson's Disease and raising the profile of the charity in Lisburn. I know this has made a big difference."
Mr Lunn added: "This is a tremendous amount and I would like to thank everyone who contributed. The families and carers of those suffering with Parkinson's Disease require support and respite and this money will be used locally to support them, as well as to fund much-needed research into the cause of Parkinson's Disease and any possible cure."
The final figure raised during Mr Lunn's term of office was £28,246.52, with additional funds raised at events hosted by the charity, including the successful Jenny Bristow cookery evening.