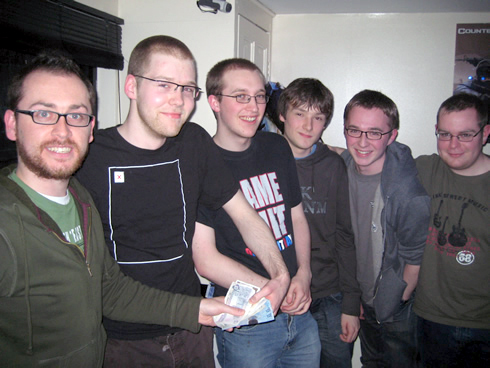 Former Wallace High School student Paul Kelly (third from right) and a winning team of Queen's students pictured receiving their prize money at a recent computer games evening at PONG computer gaming centre, Belfast. L to R: John Busch (lecturer) and the team - Mike Hackworth, Gary Fleming, Paul Kelly, Dean Hannigan and Andrew Carr.
Former Wallace High School student Paul Kelly (from Lisburn) was one of a winning team of five Queen's students who received £50 in prize money playing 'Call of Duty 4' at a computer games evening on Wednesday 5th December.
The team are members of a new Student Social Club, which has been set up in the School of Electronics, Electrical Engineering and Computer Science. The event kicked off the first in what will be a series of student social events to be held throughout the year. Held at PONG, a computer gaming centre on the Lisburn Road, Belfast, the event was attended by over 30 Queen's students and staff.
To see the article on the Queen's University website, go to:
http://www.qub.ac.uk/schools/eeecs/NewsandEvents/#Games-club
28/12/2007