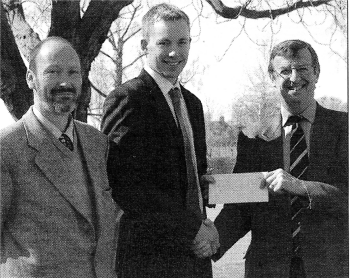 Nathan Duncan receiving his award.
AN AGRICULTURAL student from Crumlin has won a national Bomford Trust Scholarship at Harper Adams University College.
Nathan Duncan (21) who lives at Lennymore Farm, is studying for a BEng in Agricultural Engineering won the national scholarship.
After taking his GCSEs at Antrim Grammar Nathan took the Harper Adams 30-week University Access Course.
The one-year course is designed for students to gain access to Higher Education without having to complete A-Levels. Nathan qualified to study for the Bachelor of Engineering in Agricultural Engineering at the University College.
Nathan, who is from a farming background, gained work and mechanisation experience at Norman Erwin's in Nutts Corner and Greenfield Fertilisers before entering Harper Adams.
The Douglas Bomford Trust awards the Scholarship annually to a student embarking on an agricultural engineering course.
The Trusteers interview short listed applicants to determine the award winner and the Bomford award is valued at £2,000.
Jim Loynes, Head of the Engineering Department at Harper Adams University College said: "Nathan has shown that he has a sound knowledge, the ability and the enthusiasm to excel in his chosen profession."
Nathan said that he was delighted extremely pleased to have gained the Bomford Trust Scholarship," he said. "It has d. helped to take away some of the financial gained the pressure that students face at university."