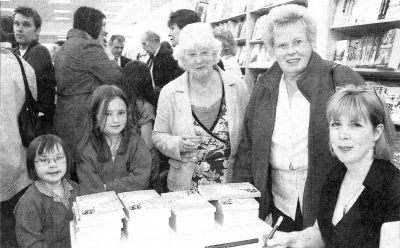 Author Eirin Tompson signs copies of her new book Notes for the next time'
in Easons, Craigavon
A FORMER pupil of Wallace and Dromore High Schools who worked as a journalist in Lisburn has had her first novel published.
'Notes for the next Time' by Eirin Thompson who grew up at Legacurry started life as a 20,000 word dissertation
It was written when she took her Masters in Creative Writing at Queens after gaining a First in Literatures in English from the Open University.
Eirins tutors at Queens included writer Glenn Patterson who suggested she develop her dissertation into a novel.
He also recommended her to Faith O'Grady of the famous Lisa Richards Agency in Dublin who has become both her agent and a good friend.
Faith explained Glenn first told her about Eirin at last year's Listowel Writers Festival.
He told me how very excited he was about her writing," she continued.
"She had just completed the MA course in Creative Writing at Queen's University and was finishing up her first novel.
"His enthusiasm sparked my curiosity and I certainly wasn't to be disappointed. Eirin sent in the completed novel a month or so later and I was really blown away by what a hilarious and intelligent novel it was."
Faith said what struck her most was the 'absolute authenticity' of the narrator's voice, and the "laugh-out humour.
"It is about a married woman with children who is striving for domestic perfection and struggling at every turn," she explained.
"It is unique in that it isn't trying to fit into any particular genre of fiction but creates its own quirky world with a wonderfully funny cast of characters.
"It has been described as being a cross between Adrian Mole and Bridget Jones and I think this captures its essence perfectly. I am absolutely delighted to represent such a talented Northern Irish writer."
Eirin now lives in Portadown with her partner former Star Deputy Editor Niall Crozier who is a member of the editorial team at the Portadown Times.
Her novel was launched in the Rushmere Shopping Centre branch of Easons and is now available nationwide.